Huskies fall to Lake State in home opener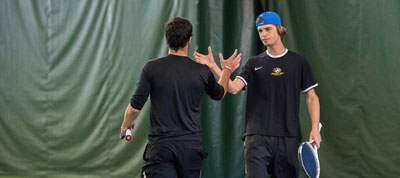 The Michigan Tech Huskies men's tennis team (0-8, 0-4 GLIAC) took on the Lake Superior State Lakers (6-6, 1-3 GLIAC) in the Huskies home opener of the regular season. The Lakers took the match 7-2 for their first win in GLIAC play this season.
In singles competition junior Mario Neto notched up the win as he defeated LSSU's Joe Gilman 3-6, 6-3, 10-8. LSSU's Jake Prime defeated Tech freshman Nico Caviglia 6-4, 6-2 in the second singles match. In the third singles match, Ieuan Lister of LSSU defeated Tech freshman Ignacio Carbajosa 6-1, 6-3. Lake State's Luis Valderrama surpassed Tech freshman Simon Xiong 6-0, 6-3. In the fifth singles match LSSU's Diego Penz passed up Tech junior Juan Felipe Chica 6-1, 6-2. In the last singles match of the day, LSSU's Peter Summers defeated Tech senior Illiya Chibirev by scores of 6-4 and 6-1.
In doubles competition, Neto and Carbajosa notched up Tech's second point of the match by defeating LSSU's Lister and Penz by a score of 8-3. However, LSSU's Prime and Valderrama nearly defeated Xiong and Caviglia by a score of 8-6. Chica and Chibirev rounded out the doubles matches with a loss to LSSU's Gilman and Summers by a score of 8-3.
The Huskies will be back in action on Saturday ,April seventh, when they host the Purdue Northwest Pride (6-7, 0-3 GLIAC) at the Gates Tennis Center at 10 a.m. Then on Sunday, April 8 the Huskies will wrap up their home schedule with a game against the Davenport Panthers (9-4, 3-0 GLIAC) with match time set for 10 a.m.