Huskies run away from competition at the St. Norbert Twilight Meet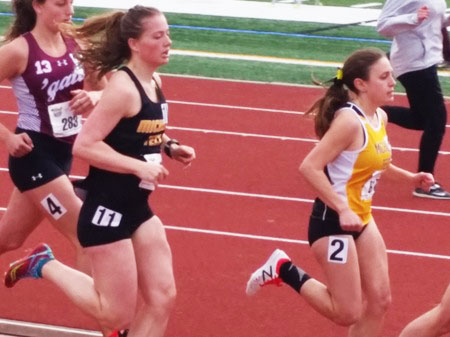 The Michigan Tech outdoor track and field team headed to DePere, Wisconsin to participate in the St. Norbert College Twilight Meet this past weekend. The Huskies looked phenomenal as the men's team took first, finishing with 270.5 points, while the women's team took second, finishing with 164 points placing behind the host St. Norbert who finished with 212 points.
"This was a good start for us," Michigan Tech Head Coach Jake Isaacson said. "We had some great opening performances today, and the team scores showed that. We still have a lot to improve upon and these next three weeks will provide us with great competition to better ourselves."
The men's team put up eight first place finishes on the day. Sophomore Korson Mudinger led the way in the 100 and 200 meter dashes. Sophomore Brendan Klynstra led the pack in the 1,500 meter run. Sophomore Nate Carey took the gold in the 3,000 meter run. Freshman Hanbyul Johnson took first in the 3,000 meter steeplechase. Senior Kieth Lemley took first in the pole vault. Michigan Tech's four by 100 meter and four by 400 meter relay teams also came in first in their respective races.
The women's team finished with six first place finishes throughout the day. Junior Liz Bloch took first place in the 1,500 meter run. Freshman Chloe Strach took the gold in the 5,000 meter run. Senior Ashley Veale led the way in the 400 meter hurdles. Junior Robyn Holmes swept away competition in the 3,000 meter steeplechase. Senior Jenna Burns took took first in shot put. Lastly, the Michigan Tech four by 400 meter relay team led the pack.
The Huskies will be back in action this Friday and Saturday, April 6 and 7, as they travel to Hillsdale, Michigan to participate in the Hillsdale Invitational.