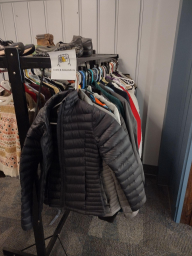 With the first Winter Coat and Boot Drive having ended on Nov. 5, drop off locations in town and around campus will no longer be available. However, new or gently used clothing donations are always welcome year round to be dropped off in room 129 of Douglas Houghton Hall. The Clothing Closet is open from Monday to Friday from 8 a.m. to 10 p.m., providing free clothing for any student to pick from. This is an affordable and sustainable resource for students. 
The Winter Drive was a collaborative effort betweenDirector of Academic Conduct, Rob Bishop; Pastor Sarah Semmler Smith; Senior Administrative Aide, Mariana Nakashima; and Director of Residence Education, Alexandra Marshall. This is a continuation of the winter drive held at Finlandia by Smith and Nakashima, brought over to Michigan Tech. 
"Not having the right clothing changes the way we experience a place," said Nakashima. 
Around 1,000 pieces of winter clothing gear have been received, including gloves, hats, scarves, socks, and jackets. Most pieces have already been taken from the closet. On Nov. 24, a generous donation of 40 new jackets were collected from the Evangel Community Church donation bin. Students were informed of this large donation and within 3 hours the jackets were gone. "It shows that there is a need and that it is being fulfilled, but also how much our students care for each other and pass the information," commented Nakashima. 
The closet, as of Nov. 3, is stocked with a variety of clothing pieces to choose from, including  hats, scarves and jackets. The closet is continuously restocked if there are incoming donations. 
Any questions about the Husky Closet can be emailed to [email protected]. For more information visit the Husky Closet Collective website or the Instagram page @husky.closet.collective.