One step closer
Colin Swoyer reflects on his big move from college hockey to the pros.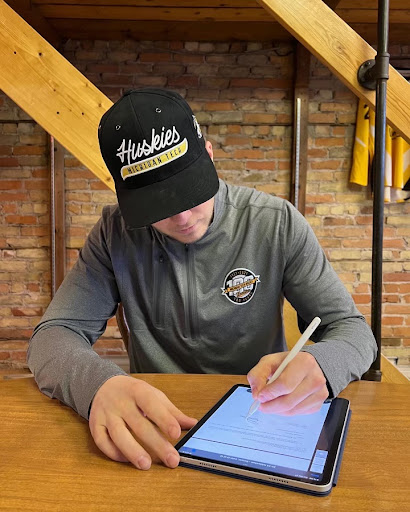 After four years, 141 games, 14 goals, and 58 assists, Colin Swoyer's time as a top defenseman for Michigan Tech had come to an end. However, his hockey career is far from over. On March 28, Swoyer inked a one-year, $750,000 deal with the Pittsburgh Penguins. Swoyer entered college as an undrafted free agent, meaning that he could sign with any team once he finished his collegiate career, and being a star player for the Huskies garnered him plenty of interest. While multiple teams had talked to Swoyer during his career as a Husky, the Penguins seemed like the obvious choice to him. "I had talked to Pittsburgh the most and I had the best relationship with them."
The new career change meant that it was time for Swoyer to pack his bags and head to Wilkes-Barre, where he would start training with Pittsburgh's AHL affiliate. However, that meant his time in Houghton had run out. "Leaving the group of guys was really hard," Swoyer emphasized. "Every guy on the team is like a best friend to me. It was time to go but definitely not easy to leave. I couldn't do this without them." 
Swoyer now lives out of a hotel room in western Pennsylvania, where he has swapped daily snow for daily rain. On a typical day, he gets to the rink at 8 a.m., where he has a team meeting at 9:15, a workout at 9:45, and a skate around at 10:30. According to Swoyer, it's a different lifestyle but he enjoys it. "I'm getting to know my teammates well, they are a great group of guys, really respectful." 
In addition to adjusting to a new climate and team, Swoyer now must adapt to the professional game. When reflecting on the change in play, he pointed out that "college hockey is about limiting mistakes, that's how you win. The style of play in the professional game is a lot more like a chess match." In terms of atmosphere, Swoyer has watched a couple of games while training with his new team. "There's been a good amount of people in Wilkes-Barre but definitely not as crazy as it is in colleges." Although, it's hard to top a Tech crowd that Swoyer calls, "abnormal but in a good way."
Even since he was five, Swoyer has been chasing his dream of playing in the NHL, and now, according to him, he's "kinda almost there." His personal goal is to play the game of hockey as long as he physically and mentally can. "It has brought me friends, a work ethic, and taught me to be a better person," Swoyer reflects. Moving forward, Swoyer wants to be the best that he can be at hockey and be able to look back at a successful career. So far, so good.