Volleyball ranked No. 22 this week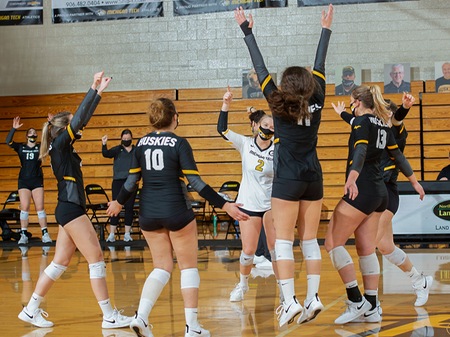 HOUGHTON, Mich. – The Michigan Tech volleyball team is ranked No. 22 in this week's AVCA Division II Coaches' Poll. The Huskies were ranked No. 23 on Feb. 25 and received votes last week and in the preseason poll.
The Huskies are coming off a weekend sweep of Ferris State at the SDC Gym. The Huskies won two against the Bulldogs for the first time since 2008.
Tech is 5-1 this season and heads on the road for the next two weekends, beginning at Saginaw Valley State on Friday and Saturday (Mar. 19-20).
Tech was ranked in the Top 25 in eight polls in 2019 and climbed as high as No. 20 on Nov. 5.
AVCA Division II Coaches Top 25 – March 17, 2021
| | | | | |
| --- | --- | --- | --- | --- |
|   | Team (First) | Points   | Record | Last |
| 1. | Lewis (45) | 1173 | 11-0 | 1 |
| 2. | Colorado Mesa (1) | 1114 | 9-0 | 2 |
| 3. | Hillsdale | 1049 | 16-1 | 3 |
| 4. | MSU Denver | 1020 | 10-1 | 4 |
| 5. | Colorado School of Mines   | 951 | 8-1 | 6 |
| 6. | Oklahoma Baptist (1) | 883 | 12-0 | 8 |
| 7. | Harding | 856 | 7-0 | 7 |
| 8. | Texas A&M – Kingsville | 805 | 12-0 | 10 |
| 9. | Angelo State | 760 | 13-2 | 5 |
| 10. | Missouri – St. Louis | 727 | 8-2 | 11 |
| 11. | Gannon | 658 | 6-0 | 12 |
| 12. | Nebraska – Kearney | 615 | 7-2 | 15 |
| 13. | Southern Indiana | 561 | 10-2 | 16 |
| 14. | Texas – Tyler | 531 | 12-0 | 14 |
| 15. | Findlay | 502 | 9-3 | 13 |
| 16. | Walsh | 444 | 11-2 | 9 |
| 17. | NW Missouri State | 394 | 5-1 | 17 |
| 18. | Wheeling | 354 | 11-2 | 19 |
| 19. | Washburn | 324 | 7-3 | 20 |
| 20. | Tampa | 271 | 3-0 | 22 |
| 21. | Regis | 224 | 8-3 | 21 |
| T-22. | Michigan Tech | 187 | 5-1 | NR |
| T-22.   | West Texas A&M | 187 | 9-3 | NR |
| 24. | Northern Michigan | 138 | 7-1 | NR |
| 25. | Central Missouri | 97 | 4-1 | 24 |