Anabel Needham wins classic at NCAA regional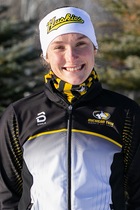 The Michigan Tech Nordic ski teams hosted the NCAA Central Regional Championships last weekend. Anabel Needham won Saturday's 5K classic and both teams finished second in the region.
"It was a really fun weekend of racing," Tom Monahan Smith said. "We're really grateful to have pulled off an awesome full season of racing and to finish it at home on the Tech Trails was great."
Needham won the classic for the second week in a row, covering the course in 15:04.4 and winning by six seconds. She added an eighth-place finish in Sunday's 15K freestyle.
"Anabel had another awesome classic race and continues to show her dominance in that technique," added Monahan Smith. "That was a great achievement.
Henriette Semb was fifth in the classic and sixth in the freestyle. Oda Hovland was sixth in the classic and 14th in the freestyle. Olivia Laven also had a top 10 with a seventh-place finish in the freestyle. Johanna Craig and Mary Lyon also scored for the Huskies.
Patrick Acton paced the men with a second-place finish in Sunday's 20K freestyle. He also led the squad in the 10K classic on Saturday with a sixth-place finish.
Also in the top 10 for the Huskies were Skylar Patten (6th), Cedric Keller (9th), and Reid Goble (10th) who placed seventh Saturday. Aleksi Leino also scored both days for the Huskies with an 11th place finish Sunday and 13th Saturday. Keller (14th) and Patten (16th) also scored for the men Saturday.
Seniors from all teams gave short speeches during the awards ceremony. Michigan Tech seniors are Reid Goble, Patrick Acton, Aleksi Leino, Tres Green, Mitch DeLong, Somer Schrock, Josh Albrecht, and Aiden Truettner.
Tech will send a full allotment of skiers to the NCAA Championships in Jackson, New Hampshire March 11 and 13.