The Professor's Province
With Dave Nelson and Pasi Lautala
Michigan Tech has a plethora of organizations and programs dedicated to different industries that students may be interested in. The Rail Transportation Program has been active at Tech for 12 years and offers many unique opportunities for those interested in rail transportation and railroad engineering. While many schools don't offer a rail program, Tech is still going strong and keeping the Rail Transportation Program and rail minor running and up to date.
Dave Nelson (CEE) and Pasi Lautala (CEE) both have a background in the rail industry and are invested in the Rail Transportation Program. After spending 20 years in the air force, Nelson decided to retire from the sky and started working for Maine DOT in their Office of Transportation. There he dealt with everything that wasn't part of a highway system, including railways.
After receiving his Ph.D. from Michigan Tech, Lautala returned to Tech to become a professor. "I grew up believing that we need to have diverse modes of transportation, and rail is one of those modes," explained Lautala. "Rail is also often said to be the 'green' mode of transportation because it is so energy efficient. I really like the benefits that rail transportation has and I want to help bring it back."
"Rail transportation has certain benefits that the highways and airlines find difficult to overcome because of the amount of energy it takes to move a certain amount of goods or people. However, in order to rail transportation to keep up with the other modes of transportation, it has to keep developing alongside them. It will only thrive if it has the amount of passion put into it as other modes of transportation," explained Lautala.
Freight trains play a key role in the U.S., and while passenger trains might not be as prominent here as they are in Europe, they still are used by many large cities and hundreds of people – meaning the industry is not dying out. Jobs in the rail industry are still much needed today, and students at Tech can get become well prepared to jump into the rail industry with the help of the Rail Transportation Program.
When asked if it's possible for passenger trains to become popular again in the U.S., Nelson replied, "Where it makes sense, yes. Can passenger railroads compete with airplanes going from New York to San Francisco? Not really because the time that it takes to get there is significantly different. But, if you look at going from Chicago to Detroit, then perhaps. If you take into account the time it takes to go through security and get to your plane, then a train would be faster. Just because it's an hour flight doesn't mean that will be the total time you have to take to reach your destination."
"Passenger trains also have to compete with people taking their cars. It would take approximately the same time to drive from Chicago to Detroit as it would to take the train, however, when you take the train you're not stuck behind a wheel driving. You can do work on the train or watch a movie unlike when you're driving."
No industry is perfect, and many face ongoing problems. Arguably, one of the biggest immediate challenges the rail industry faces is positive train control. "It's a technology that was mandated for the industry by the government about ten years ago, and the deadline is coming up. It's a groundbreaking technology but it is challenging the industry," said Lautala. "It is somewhat of an untested technology, so they really struggle with making sure that it works. There is a lot of pressure to get it implemented, but once they do, it will open avenues to efficiency gains and operational gains that will be groundbreaking and change how the railroads will run."
Nelson and Lautala have helped sponsor more than a dozen senior design projects and enterprise projects in multiple disciplines across campus. "We have done a lot of different stuff, at least a few million dollars worth of stuff, in rail research. More recently, there's been a couple of specific areas we have been looking into," stated Lautala. "We have been getting into the safety aspects of the highway-rail gate crossings and we have started a new direction in that research by concentrating on what the drivers do at the crossings and potentially adding something into cars to alert drivers that they are approaching a railway."
"Another area we have been getting into is more related to railway and multimodal logistics. Especially, we have been looking at the movement of forest products and biomass that can be used for energy transportation. We have been looking into certain benefits of using rail and trucks instead of only trucks for transportation. Right now we are working with quite a few of the big forest companies in our region to look for opportunities to use rail in the transportation of their products."
Dave Nelson also acts as the advisor to the Railroad Engineering and Activities Club on campus. They aim to get students interested in the rail industry connected with people from the industry through field trips, events and seminars. Many events are sponsored by railroad companies who are interested in getting to know the members and those who what to get into the field.
The Rail Transportation Program also runs a summer youth program for high schoolers who want to learn more about what the rail industry has to offer. The program will run for a week in July. It consists of some classroom activities on campus before packing into a bus a heading to Superior, Wisconsin and Duluth, Minnesota to tour rail facilities for two days. It offers high school students a great opportunity to explore and learn more about the rail industry before heading to college.
Michigan Tech offers a rail minor for those interested in rail transportation or looking to enter the rail industry. It is open to all disciplines and is extremely flexible. There are only three required courses, one required leadership course and then nine more elective credits. There are specific tracks set in place for civil, electrical and mechanical engineers already, but that doesn't mean those are the only majors allowed to add a rail transportation minor. Nelson and Lautala will work with students to find a way to incorporate classes they will take, or have taken, into the rail transportation minor track, as long as there is a way the classes can be related to the rail industry.
Transportation can't be outsourced, it will always have a presence here in the U.S. "There are a lot of different ways you can get involved and be useful in the railroad industry," explained Nelson. "The stuff that is being produced now in the rail industry is really on the cutting edge and high-tech side of things. A lot of people think of railroads being really old and only steam engines driving down tracks, but it's not quite that anymore."
Anyone interested in the Rail Transportation Program, the rail transportation minor or the Railroad Engineering and Activities Club can email [email protected] for more information.
About the Writer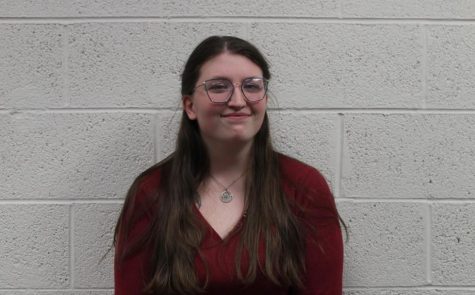 Maddie Steger, Editor in Chief
Maddie is a senior at Michigan Tech majoring in electrical engineering and minoring in journalism. In her spare time, she enjoys reading, painting, or...