Lucchini named Preseason All-WCHA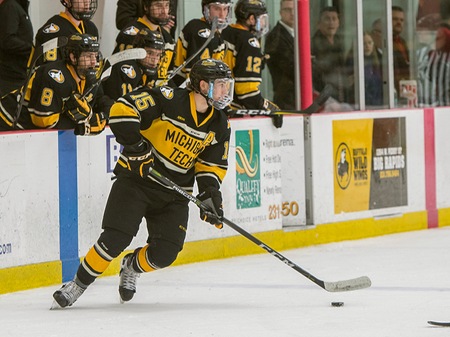 September 28, 2018
Filed under Sports
Hang on for a minute...we're trying to find some more stories you might like.
BLOOMINGTON, Minn. – Michigan Tech was picked fourth in both WCHA preseason polls the league announced on Monday (Sept. 24). Senior captain Jake Lucchini was named to the media's All-WCHA Preseason Second Team.
In the Mankato Free Press Preseason Coaches' Poll, the Huskies received 64 points, including one first-place vote, ranking behind Minnesota State (88), Northern Michigan (80), and Bowling Green (76). The UAHHockey.com Preseason Media Poll had the Huskies behind the same three teams with BGSU in second ahead of third-place NMU.
Lucchini also received votes from the coaches in their Preseason All-WCHA Team. He played in all 44 games for Tech in 2017-18 and led the Huskies in goals (16), assists (23), and total points (39), finishing seventh overall in the WCHA in points. This season's Tech captain was named to the NCAA East Region All-Tournament Team, the WCHA Offensive Player of March, and a WCHA Offensive Player of the Week (Feb. 5). He has 78 career points in 126 games, entering his senior campaign.
Gavin Gould and Jake Jackson received votes in the media's preseason picks at the forward position, and Mitch Meek garnered votes as a defenseman. Gould appeared in all 44 games last year and was second on the team with 14 goals, third with 29 points, and fourth with 15 assists. He enters his junior year with 52 career points (26 goals, 26 assists) in 77 career games. Jackson was third on the Huskies with 13 goals last season, tallying a career-high 26 points in 39 games. The alternate captain enters his senior campaign with 91 games under his belt and 43 career points 924 goals, 19 assists). Meek had 10 points in his first season with the Huskies, appearing in 43 of 44 games.
Tech opens the 2018-19 season on October 12-13 against Minnesota Duluth at the John MacInnes Student Ice Arena. The first WCHA series is November 2-3 at Alabama Huntsville.
Second-year head coach Joe Shawhan will return 19 players from last year's team that won 20 games for the fourth season in a row. Tech finished 22-17-5 and won the Jeff Sauer Trophy as WCHA Tournament Champions for the second straight season and advanced to the NCAA Tournament for the third time in the last four years.