Huskies win second consecutive WCHA tourney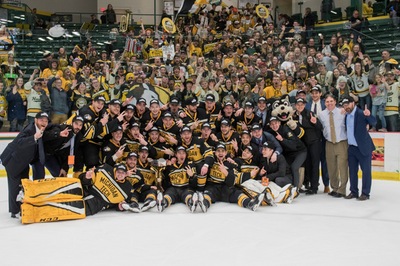 The Huskies (22-16-5) reached their second consecutive WCHA championship game as there was a U.P. showdown between Tech and arch-rival the Northern Michigan Wildcats (25-13-3) for the WCHA tournament championship. Tech used stark defense and took advantage of their opportunities to defeat the team from Marquette 2-0, to give Tech their second consecutive WCHA tournament championship.
On Saturday, March 17, Munson once again got the start in goal for the Huskies, which proved to be the best move on Coach Joe Shawhan's part. No action came of the first period as both teams were deadlocked at 0 each after one.
Freshman Greyson Reitmeier netted the first goal of the game at the 5:36 mark of the second period to give Tech the 1-0 lead, assisted by fellow freshmen Justin Misiak and Mitch Meek. Tech received two penalties in the rest of the second, luckily Tech was able to kill them off to preserve their 1-0 lead after two periods.
The third period didn't produce very much action until the 12:40 mark when the Wildcats received a penalty for charging, however, Tech couldn't capitalize, maintaining the score at 1-0 Tech. The Wildcats then pulled their goalie, and senior Joel L'Esperance netted the empty net goal to secure Tech's second consecutive WCHA tournament championship.
Tech will move on to the NCAA tournament to face the Notre Dame Fighting Irish (25-9-2) this Saturday in Bridgeport, Connecticut, with start time projected for 3 p.m. The Fighting Irish defeated Penn State 3-2 and Ohio State 3-2 in overtime to win the Big Ten tournament.
Tech is 24-39-3 all time against Notre Dame.