Volleyball falls to first seed at NCAA tournament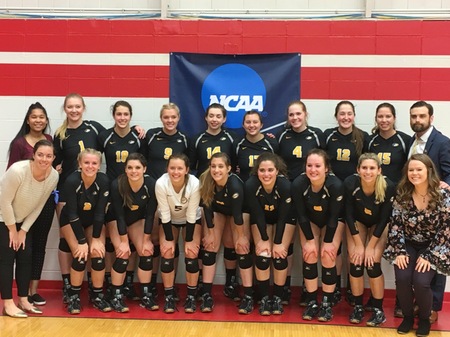 The Michigan Tech Huskies volleyball team participated in their ninth-ever NCAA tournament this past Thursday as the eighth seed in the Midwest Region. They faced the fourth-ranked Lewis Flyers (32-2) who were the number one seed and hosts of the region. The Huskies battled their hardest, but came up short in a 3-1 loss to the Flyers.
The Huskies went down early in the first set as they trailed 11-3 after three kills in a row for Lewis. Tech battled back as kills by seniors Lauren Emmert, Stephanie Dietrich, freshman Laura DeMarchi and an attack error by the Flyers brought Tech within five, 12-7. However, Lewis would respond with a 7-3 run to increase their lead to nine, 19-10. Lewis finished set one on a 6-1 run to win 25-14.
Tech started set two much stronger, as they took the early 3-0 lead, however Lewis came back to take the 10-7 lead after an attack error on Tech. The Huskies didn't let that lead last for long as they charged on a 7-3 run to take the 14-13 lead on kills by sophomore MacAulay Petersen and Dietrich. Lewis combated the Huskies run with an impressive 12-2 run to end the second set in favor of the Flyers 25-16.
Set three started eerily similar to the first as the Huskies went down early 7-3. However, Tech wasn't going to go away that easily as they clawed their way back in to tie it up at 11 after a bad set by Lewis. Tech tied it back up at 14 after a kill by Junior Mariah Sherman, which sparked a 7-2 run by Tech to take the 20-16 lead. A kill by the Flyers pulled them within one of Tech 22-21, but an attack error on the Flyers, two kills by Dietrich and a kill by Sherman kept the Huskies alive, as they won set three 25-21.
Both the Huskies and Flyers traded early runs in set four to be tied at seven on a kill by freshman Olivia Ghormley. Both teams again traded runs, as the Huskies pulled within one after an attack error on the Flyers made it 14-13. Lewis then went on an 8-3 run as they gained the 22-16 advantage over the Huskies. Kills by Emmert and Ghormley and a service ace by senior Halie Hart saw Tech pull within three, however that's as close as they'd get as Lewis went on to win the decisive set four 25-20.
The Huskies were led by Ghormley with 13 kills in the match. Hart had two service aces for the Huskies, while Emmert and freshman Anna Jonyas each had one apiece. The Huskies were paced by senior Elle Heinonen with 20 digs in the match.
The Huskies finished their phenomenal season with a 20-11 overall record. They made it to the GLIAC tournament championship game, and made the NCAA tournament for the first time since 2009. Head coach Matt Jennings was named GLIAC coach of the year, and is only the third ever coach at Tech to lay claim to that title. Freshman setter Laura DeMarchi was named GLIAC freshman/setter of the year after posting an 11.9 assist per set average, good enough for seventh in the nation, and leads the GLIAC in service aces per set at 0.39.
This match was the final one for seniors Halie Hart, Elle Heinonen, Lauren Emmert, and Stephanie Dietrich.