Huskies Ask: Dr. Andrew J. Storer
Huskies Ask is a weekly column where we send questions to different Michigan Tech faculty and staff.
This week, we reached out to Dr. Andrew J. Storer, Provost and Senior Vice President for Academic Affairs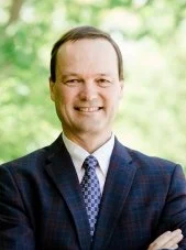 (1) Where is your home town and when did you come to Michigan Tech? 
My hometown is the village of Blewbury in England, about 50 miles west of London. My high school was 10 miles north in Abingdon, and I went to college in Oxford, which is also nearby. I came to Michigan Tech in 2001 from UC Berkeley.
(2) What is your favorite thing about Michigan Tech? 
My favorite thing about Michigan Tech is the people, especially our amazing undergraduate and graduate students. Their enthusiasm and energy for what they do is always inspiring! Walking on campus and hearing snippets of conversations about classes, student orgs, and issues of the day always reminds me of how important an engaged student body is to the university. Seeing their involvement is always inspiring because it shows how much students care about each other and the experiences of future Huskies!
(3) What is something you wish students knew about you and your job? 
I hope that students know how much the faculty and staff care about them. They care about a student's experiences at Michigan Tech, as well as their successes both here and in their careers. I see an important part of my role as facilitating opportunities for students to have the best experiences possible in their educational pathway at Michigan Tech.
(4) What part about your new role excites you most?
I am most excited about the opportunities to work with faculty, staff and students to keep the university moving forward on its positive trajectory. Being involved in discussions and decisions that are centered on what is best for the university and our students is an exciting opportunity to contribute to our continued success.