Starting off strong
Michael Karow has already made quite the impact down in Texas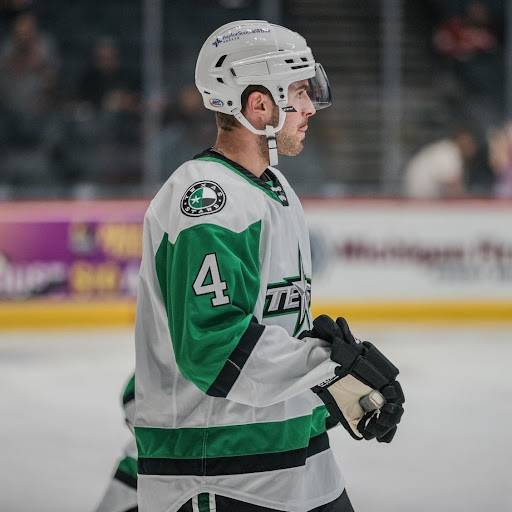 During the Michigan Tech hockey season, Michael Karow was strictly business. When it came to talking to professional hockey teams, he "left it on the back burner." However, that didn't stop the star defensemen from scoring a goal and tallying an assist for the AHL-based Texas Stars just eight days after he played his final game for the Huskies! 
According to Karow, the game was "all I could ask for in a professional debut. I was fortunate enough to get all the firsts out of the way." While getting a goal and assist and a penalty is quite the initiation, Karow had plenty more than just his first professional game to get used to.
Instead of hockey in the afternoons, Karow now gets up early in the morning in order to get to the rink. However, this hasn't been a problem for him as he now has time to do his schoolwork after practice. Karow is currently pursuing an MBA. "I was concerned about finishing my degree but so far teachers and administrators are still super helpful." Karow has also been grateful for new teammates, coaches, and support staff. "Joining a new team is always a bit of a challenge," Karow reflects. "But the team has been super welcoming." The 80-degree weather is another beneficial perk as according to Karow it's "been a lot of fun wearing shorts every day."
Karow has noticed some changes in the game. "The game moves at a quicker pace." Everyone has been here and doing this for a while. There's less time to make a play." While the crowd in Austin is good, Karow misses the student section and the chance to play in front of his classmates. Even so, he has embraced the competitive atmosphere that comes along with playing for an AHL team that is making a ferocious playoff push. 
With just a couple of games under his belt, Karow already knows what it will take to be successful. "Going forward, especially at the pro level, you have to stick to your identity more. It is all about making yourself useful to the team." It's easy to tell that Karow has quickly discovered his identity in Texas, even if it's one that has him wearing a lot more shorts and playing a little bit more golf.