KYCA hosts "Day of Solidarity" for variety of causes
January 20th, Inauguration Day, has always always been a day of action. For some, it is about holding the new administration accountable; for others, it's about protesting the new administration. This inauguration day on the Michigan Tech campus was no different as we saw the Keweenaw Youth for Climate Action invite students to participate in a day of solidarity. This event was inspired by the nationwide call to action called Close the Camps. The call to action aimed to use the momentum of a new administration to urge for social change and put focus on institutions of oppression. The institution in question was ICE (U.S. Immigration and Customs Enforcement agency) who have been known to hold refugees in camps, breaking families apart and criminalizing immigrants. 
When I arrived at the lift bridge, there were 12 demonstrators, each holding a sign.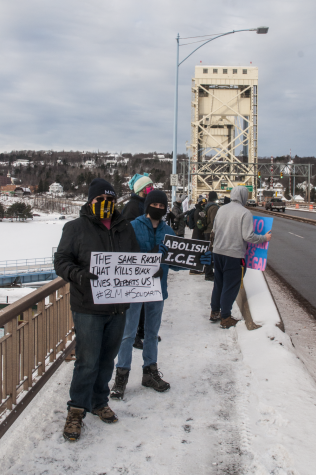 Most of the time people were silently making a statement, holding their signs high. When I asked one of them why they were here, they said that they wanted justice for those immigrants that were placed within the camps, and that they wanted to show solidarity with those people and this Close the Camps movement. Additionally, they wanted to hold the Biden administration accountable in order to free the kids and reunite families that were separated at the border. 
Another protester said they were there to protest against the inhumane actions of ICE as well as to raise awareness about ICE. The bridge gets a lot of attention, and they wanted to show people that there are people in Houghton who are against ICE. 
While standing with the demonstrators for an hour, I saw a huge variety in reactions from people in cars; some looked at the demonstration in disgust, some gave the finger, some gave thumbs down, and a few even revved their engines in such a way that dark clouds of exhaust blew at us (this is commonly referred to as "rolling coal," and is illegal through the Environmental Protection Act). However, many others gave us a thumbs up and a honk, smiled at us, or raised their fist in solidarity. Many simply honked and we were left wondering if it was a positive honk or a negative honk.
While only a few people participated, there was also a march for environmental justice that took place, where participants walked from the lift bridge to the Husky Statue. It was really cold, so I, like most of the people there, opted to drive to the KYCA climate rally instead.
The day ended with songs and comments from KYCA on climate change policy and climate justice. As 12 people waited, the KYCA president, Elise Rosky, played music. Finally, a group of three who participated in the March for Environmental Justice approached and Rosky began speaking. 
"Today starts a new presidential administration and we need to put tremendous pressure on this administration to act on climate change by stopping new fossil fuel infrastructure, investing in large scale public transit, and eliminating our dependency on cars," she said. 
She continued talking, putting an emphasis on climate justice. "If I were to summarize the meaning of climate justice in one sentence, I would say it's first recognizing that marginalized communities have been forced to bear the brunt pollution, lack of protection against natural disasters, and going forward we must absolutely not allow these same communities all over the world to suffer."
 Rosky further talked about the Green New Deal, a policy that would aggressively tackle climate change. She also posed a future where this phenomenon is not addressed —  one plagued with disaster. After Rosky talked, she gave the stage to the group's faculty advisor, Sarah Green. 
Green passionately talked about the new Biden administration, who has appointed many experienced professionals to tackle climate change. Green also talked about climate justice, saying it is an essential piece in new legislation and that we owe it to future generations to get it right. Newly sworn-in President Joe Biden's climate plans include focusing on science and climate justice, reentering the Paris Agreement, and cancelling the Keystone XL Pipeline. In fact, President Biden achieved the last two only hours after the event, holding true to his promises.
"We are looking for an energy transition. So, transitioning the entire energy system of the entire world in the next thirty years is a monumental and gigantic undertaking and it requires all the engineers, and scientists, and social scientists and everybody who is at tech right now," Green said.She finished by saying, "At this point we are at a point where we can stop trying to prevent further degradation and start building a new world that we want to live in."
Next, I learned about a program I had never heard about before by Miguel, a speaker. "The Red New Deal is a movement-oriented program put forward by The Red Nation for climate justice and grassroots reform and revolution," he said. 
In a summary, by demillitarizing, abolishing ICE, tearing down the border walls, liberating indegenous people, decolonization, providing free healthcare and housing, implementing food sovereignty, and moving away from oil, gas, coal, and carbon extractions and emissions, the Red New Deal aims to achieve an economy that benefits everyone and ends exploitation instead of just supporting the elite and powerful. To achieve this, the Red New Deal divests away from police, prison, military and fossil fuels, choosing instead to invest in humanity.
"Healing the planet is ultimately about creating infrastructures of caretaking that will replace the infrastructure of capitalism. Capitalism is a system based on greed. It is contrary to life. Caretaking promotes life. The Red New Deal notes that caretaking is at the center of contemporary Indegenous movements for decolonization and liberation," Miguel said.
Miguel acknowledged that this is a monumental challenge — turning caretaking into mass movements that will eventually bring down capitalism. However, Miguel is certain that this is the only way we can save and heal our planet.
After the event, something Sarah Green stuck out to me.  I believe it is something many people can relate to whether you agree with anyone who showed up at this day of solidarity or not: "There is lots of work that needs to be done. Let's get out and do it."