New Health Dept. Order, Campus Level 5 Imminent
Since the start of the fall semester at Tech, one concern that loomed in the minds of many is now coming to a head: COVID-19 case numbers, especially in the UP, are up as high as the early heights of the pandemic. As the powers that be look on, it's no wonder that action was on the way.
Monday morning, the Michigan Department of Health and Human Services (MDHHS) released a three-week order in response to what they call the "fall surge." Notably, this order comes from the office of the MDHHS, not the office of the Governor, the previous source of such policy.
The order imposes a two-household limit on indoor gatherings, further encouraging families to interact with only a "single other household over the next three weeks." Unlike the executive orders that we saw earlier in the year, this order "is not a blanket stay-at-home action" according to an MDHHS press release. Instead, this order specifically allows for work that can't be completed remotely, "including for manufacturing, construction and health occupations". Critically, there is no mention of  "essential" work in this order, unlike those of previous months. Instead, this order is taking an approach that leaves this interpretation up to employers. In addition, outdoor gatherings remain permissible and personal services such as haircuts are available. Gyms, too, can open, but must abide distancing and cleanliness procedure.
As it applies to education, the order leaves kindergarten through eighth grade education definitively in the "Open" section of the "Pause To Save Lives" infographic. High schools and colleges, on the other hand, must now conduct online learning only. At Tech, this presents as the enactment of Safety Level 5, the strictest state of on-campus COVID response. All in-person classes will transition online, and, much like last year's spring semester, students are being offered $1100 in account credit for departing campus early this semester. This year, resident students can stay home after leaving for Thanksgiving by completing a departure form.
In the MDHHS press release, much emphasis is placed on concern for hospital capacity as one key aspect necessitating the action. According to the CEO of Ford Health System, a Detroit-area healthcare company, "the dramatic rise in admissions in hospitals across Michigan is not sustainable." Similarly, according to Dr. Joneigh Khaldun, chief medical executive and chief deputy for health at MDHHS, "The data we are seeing is alarming. COVID-19 is impacting every area of our state. Our healthcare systems are becoming overwhelmed, and our contact tracers cannot keep up."
About the Writer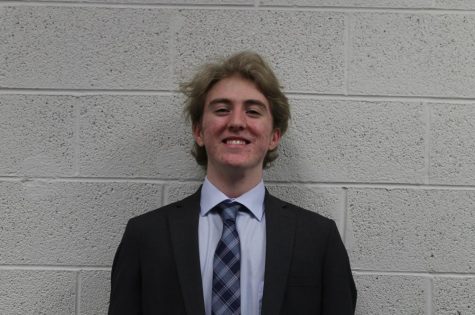 Chris Davis, News Editor
Chris is a Junior of MTU majoring in Electrical Engineering. He is a weekly news writer and editor, covering campus, local and international news.