Efforts to Clean Mine Waste in the Keweenaw Continue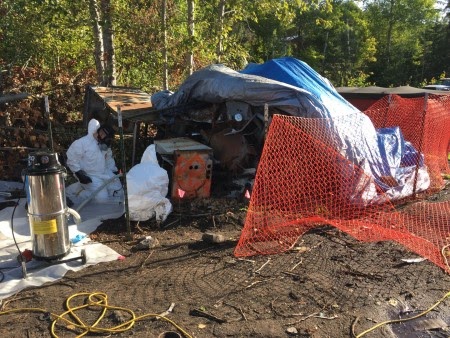 Michigan's Keweenaw peninsula finds much of its history in mining. Mining became an industrial boom in the Upper Peninsula in the mid-19th century, and copper mining has continued to provide for the Keweenaw peninsula, with over 12 billion pound of native copper having been mined in the 150 years after it began. Since mining in the Keweenaw and upper peninsula began, a number of environmental laws have been enacted. Before such protections were in place, waste from the Keweenaw mines was disposed of in and around Torch Lake, located about 15 miles north east from the Michigan Tech campus. Today, the problems produced by this method of waste disposal are easy to see, as 20 percent or more of the lake's volume is estimated to be filled with waste products.
However, this issue is not going ignored. The area is designated as a Superfund site by the U.S. Environmental Protection Agency (EPA), as well as a Great Lakes Area of Concern by the US/Canada Great Lakes Water Quality Agreement (GLWQA). Since the 1980's, the EPA has addressed the lake's most prominent waste issue, stampsand, but waste such as asbestos remained unaddressed until more recently.
Efforts towards addressing the issues unaddressed by the EPA began in 2013, led by the Michigan Department of Environmental, Great Lakes, and Energy (EGLE). Since, the group has created an "Abandoned Mine Waste" (AMW) effort, focusing on waste at Torch Lake and the rest of the surrounding Keweenaw. 
The effort has concentrated on cleaning industrial ruins such as former coal storage areas and asbestos-containing building materials, as well as bulk disposal areas such as landfills and dumps. The EGLE's AMW has additionally removed some 750 drums from the lake, and reduced sources of contamination of wastes such as polychlorinated biphenyls (PCBs).
Since 2013, the effort has continued to advance, thanks in great part to community involvement. The AMW project communicates to community members and local businesses by means of informal newsletters and open houses. The EGLE has worked with the public and private stakeholders in order to combate 10 miles of contaminated shoreline and tens of thousands of tons of wastes.
Starting next year, the effort hopes to deal with issues in Ripley, Michigan and the surrounding area, with hopes to complete efforts in the region by 2022. For now, project documents concerning the AMW can be found on the EGLE website. Those working on the AMW effort are hopeful that further community outreach and support will be vital in future efforts in combating the remains left by Michigan's mines.