Launching spacecraft—and careers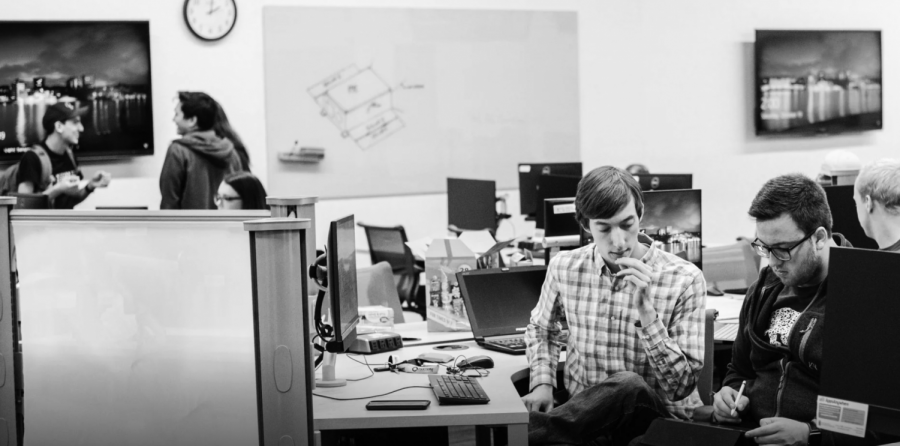 Cyndi Perkins, Unscripted Research Blog
February 4, 2020
With one satellite in orbit, two more in process and ever-expanding opportunities on the horizon, the 90-plus members of Aerospace Enterprise rely on an organizational framework to keep multi-year, multi-agency, high-budget projects moving along.
In June 2019, Michigan Tech's Oculus-ASR was the first nanosatellite to be launched from the SpaceX Falcon Heavy Rocket. The NASA-sponsored Stratus mission focuses on cloud imaging to create better weather models. Auris, a U.S. Air Force project, is designed to "hear" data and predict where the signals are coming from, to determine a geostationary satellite's beam map on Earth.
"The student team has a leadership and management hierarchy that is self-sustaining," said original and long-time advisor Brad King, the Richard and Elizabeth Henes Professor in Space Systems. "At any time, the current leaders are working to mentor their successors so we have continuity from year-to-year."
While integral to establishing the framework, King said his current role is more that of an outside evaluator, as the team he started at the request of students has taken on a life of its own.
Marcello Guadagno, outgoing Aerospace Enterprise program manager, said the team works in a high-pressure environment modeled after actual aerospace firms and that those who thrive in it usually end up working in the industry.
"We structure ourselves like a defense contractor or national lab and follow those systems engineering and documentation practices," said Guadagno. A  2019 mechanical engineering graduate with minors in aerospace engineering, electrical engineering and international leadership, he's currently pursuing his PhD working with Paul van Susante, assistant professor of mechanical engineering-engineering mechanics. "My work is focused on developing Moon rovers that will extract water ice from permanently shadowed craters."
"Satellite projects are complex; everything is interconnected. We have to document all our work to prove to our stakeholders that our mission will succeed once in space and won't jeopardize a rocket launch. No documentation equals no funding or ticket to space," said Guadagno.
That ticket to space is strong motivation for team members. Commitment is essential. There's a lot of work to do, and a lot of subteams needed to do it.
The overall team, governed by the project manager and a chief engineer, along with a deputy project manager preparing to transition to project manager, is divided into several subteams, each with a leader and in most cases a systems engineer:
Payload: There's a separate payload subteam for each satellite in design and development; all the other teams work on all missions in process.
Attitude Determination and Control: Members focus on knowing where the satellite is located in its orbit and where it's pointed, and changing the attitude. Work includes simulations, hardware testing, working with complex sensors and actuators and what current team leader Gabriel Rainy and systems engineer Ross Smyth refer to as "spooky math."
Telecommunications: This subteam designs satellite communications subsystems for Auris and Stratus, ensures satellites are compliant with Federal Communication Commission regulations, conducts hardware testing as well as link analyses to ensure a solid connection to the spacecraft ("EE" magic is involved).
Electrical Power System: Members send signals and power to the satellite, again, involving a lot of testing in the clean room and integration with other subteams. They work with a variety of boards, solar panels to adapters, and design and make circuit boards.
Ground Support Equipment: Members manage behind-the-scenes operations of the Aerospace Enterprise clean assembly area, including training and personnel. They also provide electrical ground support equipment for subsystem hardware.
Mission Operations: This subteam creates simulations, manage ground stations and do "the actual commanding." The group is always looking for "curious self-starters and big-picture thinkers."
Internal Operations: They maintain the budget and website, do marketing and advertising, produce technical writing and put their own spin on campaigns based on expertise like graphic design or video production. Entrepreneurial spirit required.
Software: The subteam develops software for satellite missions, mostly C programming, some XML.
Structures: "We take everyone's hardware and bring it together," said structures subteam leader Elijah Newton; members coordinate interfaces and run semistatic, modal and vibrational analyses of the satellites and subsystems.
Thermal: The thermal subteam develops component temperature profiles for all on-board components. "Is the satellite too hot that it's going to fry or so cold that it'll stop operating? We come up with a management plan to fix this," said subteam systems engineer Neal Ericksen. "We're really unique because you don't do this in your classes."
Command and Data-handling: The subteam prepares and manages the brains of the operation, i.e. the on-board computer, including commands sent to the satellite from Earth. They also monitor the satellite's health.
Every Saturday, you'll find team members in the Active Learning Center (formerly known by many a Husky as the MEEM Fishbowl) for optional workshops and ongoing collaboration.
Project work alone or in groups takes place all week, along with weekly subteam gatherings. Leadership also gathers weekly for project update, systems engineering and subteam meetings. Add random mandatory events, from hardware testing and design reviews, and conferences — it's easy to see why it's recommended team members put in eight hours per week to get the most out of the experience.
"We make it very clear to students who want to join our team that we expect them to do what is necessary to build a spacecraft, not just to get an A," said Guadagno. "Despite knowing they will do far more than one or two credit hours of work, we regularly get 60-plus applicants per semester."
There's an excellent payoff for dedication. Students who invest their time and talents — while maintaining their academics — have an excellent chance of scoring aerospace or defense internships, co-ops and jobs. The team's general job placement rate is 95%.
Major areas of focus: modeling and simulation, hardware, software, fabrication and assembly, business and leadership, and mission sciences. They pull from nearly every technical major at Michigan Tech, and there's meaningful work for pretty much any major who wants to join the team, Guadagno said.
Engineering management major Romana Carden had been thinking about joining an Enterprise team, but as a business student wasn't sure how to find a good fit. Aerospace Enterprise reps came to one of her classes to recruit and, as the 2019 graduate says, "the rest is history." Carden headed the Aerospace Enterprise internal operations, including oversight of a more than $250,000 budget, from August 2018 to December 2019. "I like to think of myself as the accounting, purchasing, marketing and human resources department all in one," she said.
"When I first joined, this subteam was fairly new and the scope of internal operations was small and unclear. It gave me opportunities to find my niche and to grow the subteam into what it is today," Carden said. "For a year, I was the only business major on the team; that also gave me a lot of opportunities to develop my skills. I've done everything from managing the budget, handling purchases and helping to facilitate recruitment, to leading our outreach and marketing initiatives."
During fall 2019 semester, Carden recruited three new members to her subteam: "There really is something for everyone on this Enterprise." 
Carden is starting her professional career as a program manager at Atlas Space Operations in the Traverse City, Michigan region. Like her counterparts, she carries on the legacy of the Enterprise catchphrase: Michigan Tech's Pipeline to Space.