Winter Carnival statues prompt social questions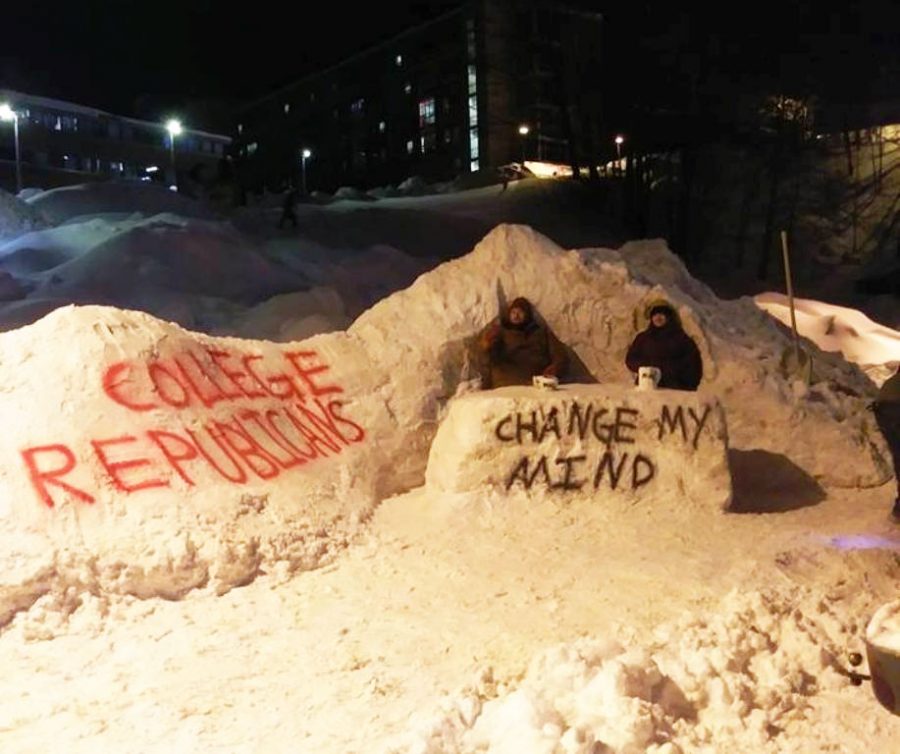 Mason Liagre, News Editor
February 22, 2019
Around Thursday, February 9, at 1:00 a.m., the all-nighter statue built by the College Republicans of Michigan Technological University was vandalized by a small group of individuals. The act occurred shortly after construction was completed and it was left unattended. "We had just finished building the statue," says president of the chapter Jared Ottman. In a video of the incident filmed by a bystander, five individuals are visible. Several of them strike the statue with their hands and feet and sit on it, punching holes into the snow and breaking off large chunks.
The statue consisted of a table with the words "Change My Mind" painted on it, backed by a sculpted mound of snow emblazoned with "College Republicans." Both parts sustained damage. The Office of Academic and Community Conduct is currently performing an investigation into the occurrence. "We haven't heard anything since Friday," Ottman says in reference to the investigation.
The College Republicans' sculpture was based on a series by Canadian-American actor and comedian Steven Crowder. In the video series, he visits areas like college campuses to invite passersby to debate him on conservative ideas, with signs reading "Build the Wall" or "Male Privilege is a Myth." Ottman says that the MTU College Republicans' version was a "lighthearted" homage to Crowder's act.
In other news, one of the other all-nighter statues aimed to get the public and campus thinking about diversity here at Tech. According to the Keweenaw Report, "For other groups, the opportunity to present a public spectacle is more about fighting a crusade than winning a contest, such as the case with one display taking aim at a governing body of the university."
"'This year, one of our students had the idea of making a mockery of one of Michigan Tech's Tech Forward Panels that we had last year. This specific panel only had white men on it, so our student had the idea of building panel of white snow people surrounded by a group of widely diverse people on the outskirts,' said Brendan Doucet with the Social Sciences Student Society."
"That display is one of the most colorful on campus as many of the snowmen and women are shaded with a food coloring spray, inevitably drawing a passerby's attention to ask what it means and what is represented.
Doucet said, 'We're hoping just to raise awareness about this type of theme. For STEM and any for any field of study in academics, it's important to have a diverse set of opinions and lived experiences represented in panels.'"