Darnishia L. Slade wins inaugural Bayard Rustin Award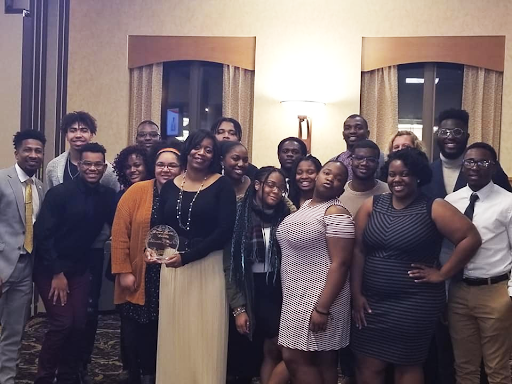 Manager of the Global Engagement Programs at the Pavlis Honors College Darnishia L. Slade was awarded the inaugural Bayard Rustin Award. Students of the National Society of Black Engineers presented the award to Slade at the 30th Martin Luther King Jr. Celebration Banquet on Jan. 21 in the Michigan Tech Memorial Union Ballroom.
Slade is known across campus for recruiting students for Michigan Tech and supporting students in their academic and career success. She is an alumna of the school, graduating in 1998 with a bachelor's degree in business administration and a certificate in international business. In 2005 she accepted a position as regional admissions manager for Michigan Tech in southeast Michigan. In 2012 she moved to join the team of International Programs and Services and currently works with the Pavlis Honors College. She is also a doctoral candidate in applied cognitive science and human factors. She is also a pastor at the Lighthouse Faith Centre in Calumet. In recognition of her significant achievements, Slade was inducted into the Presidential Council of Alumnae in 2014.
In a remark, an elated Slade said she was "still speechless for being the first recipient of the Bayard Rustin Award. To be honored by the students of National Society of Black Engineers means absolutely everything to me." She also paid tribute to some members of the university community who inspire her in her work. "I thank God for all the students of Michigan Tech for allowing me to share in your Michigan Tech journey. It was done for me through individuals like Betty Chavis, Chris S. Anderson, Carl Anderson, Faith Morrison, Tom Co, Gloria Melton, Willie Melton, Jim Turnquist, Brad Wagner, John Lehman and the late Inetta Harris; I am simply paying it forward," she said. A visibly excited Slade concluded, "Today was a defining moment of my career!"
In a comment of congratulations, Chair of the Department of Cognitive and Learning Sciences Susie Amato-Henderson said, "so very proud of you and all that you do!! Your efforts are amazing, you are amazing! Love you and am so proud!!" Former Michigan Tech student Lizbeth Noemi Ramirez said, "Dar you're so beautiful inside and out." Kay Tislar, a current student also said "Congratulations, Dar! I think you are the most beautiful person I know, both inside and out, and you deserve heaps of awards. I'm so proud of you and all you do!" One of Slade's mentors, Betty Chavis, also remarked, "My God Daughter is everything that can be and is what an accomplished Educated Black woman represents….Tonites acknowledgment of her magical talents dealing with people of the world is just the beginning of the accolades that will be bestowed upon her in the years to come ….So proud of her."
The Bayard Rustin Award was instituted in honor of an aide and confidant to Dr. Martin Luther King, Bayard Rustin. He was the main organizer of the 1963 march on Washington for jobs and freedom, an iconic moment in the history of our nation. The award is to inspire diversity and inclusion in the university community. It is awarded to a person or people whose work promotes the inclusive social justice principles of Rustin.