Husky tennis swept on the road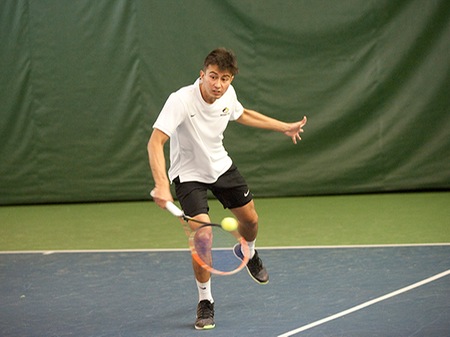 The Michigan Tech Men's Tennis Team (0-7, 0-3 GLIAC) traveled downstate for a trio of road matches against the Grand Valley State Lakers (10-4, 2-0 GLIAC), the Ferris State Bulldogs (12-2, 2-0 GLIAC), and the Northwood Timberwolves (10-1, 2-0 GLIAC).
The Huskies lost to the Lakers 9-0. "I thought our guys competed hard against a very good Grand Valley State team tonight. Grand Valley is a very experienced team and they played a solid match. We'll look to regroup as we get to face Ferris State on Saturday," said Tech head coach Kevin Kalinec. Freshman Simon Xiong competed hard against GVSU's top tennis player.
The Huskies lost to the Bulldogs 9-0. However, senior Illiya Chibirev and junior Juan Flipe Chica put up a big fight in doubles competition losing 8-5. Chibirev also led the Huskies in singles competition, coming the closest to winning at 6-2.
The Huskies also lost to the Timberwolves 9-0, however, Tech looked real strong, as freshman Nico Caviglia won six points in his singles match. Junior Mario Neto and freshman Ignacio Carbajosa paired up in doubles and finished within striking distance, losing 8-4. Two Huskies had to retire their singles matches.
The Huskies will be back in action as they have their home opener against the Lake Superior State Lakers (5-6, 0-3 GLIAC) with match start projected for 10 a.m. this Saturday in the Gates Tennis Center.