Reinke signs contract with St. Louis Blues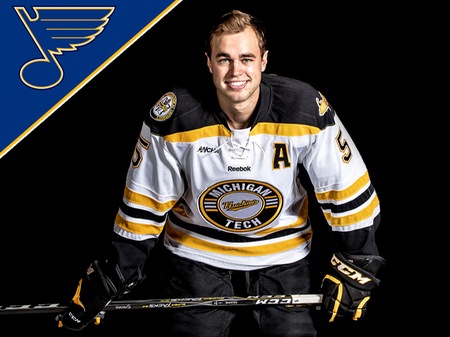 Michigan Tech defenseman Mitch Reinke agreed to a two-year entry-level contract with the St. Louis Blues of the National Hockey League. Reinke, 22, will report to St. Louis this week and is eligible to play in the regular season. He was a free agent.
The native of Stillwater, Minnesota just wrapped up his second season for the Huskies and was named to the All-WCHA Third Team. Reinke was sixth in the WCHA in assists (21) and seventh in points (24) amongst defensemen despite missing nine games. He finished third on the Huskies in assists and fifth in points. Reinke was named an alternate captain in only his second season and was named to the Great Lakes Invitational and Ice Vegas Invitational all-tournament teams.
Tech was 12-1-4 when Reinke recorded a point and 3-0-0 when he scored a goal. He was third on the team with 11 points on the power play, racking up 10 assists on the man advantage to rank 11th in the WCHA. Reinke had seven multi-point games this season, including four points in the WCHA Quarterfinal sweep at Bemidji State. He also led the team with 63 blocked shots to rank fifth in the WCHA and had a plus-8 rating.
Reinke was a WCHA All-Rookie Team selection last season after he appeared in 41 games in his rookie campaign, finishing fifth in the WCHA in power-play points (14) and seventh amongst WCHA freshmen in scoring (6G-14A=20). He also received the Norbert Matovich Memorial Award as the team's top freshman.
Reinke was a candidate for the 2018 Hobey Baker Award. He attended the NHL's Nashville Predators Development Camp in June 2016 and the Calgary Flames Development Camp in July 2017. He holds a 3.48 grade point average in business management.