Huskies drop pair on road as struggles continue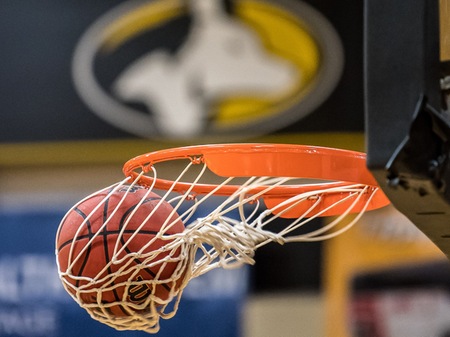 The Tech men's basketball team (7-9, 4-5 GLIAC) traveled down to the seventh-ranked Ferris State Bulldogs (18-1, 8-1 GLIAC) and to the Lake Superior State Lakers (14-3, 8-1 GLIAC) this past week in arguably the Huskies' toughest road trip this year. Tech's struggles continued as they fell to the Bulldogs 85-66, and lost to the Lakers 84-73, now having lost six straight.
On Thursday, Jan. 11, the Bulldogs took the lead early knocking down a couple triples to go up 6-0 within the first minute and a half. Ferris took a 15-4 lead on a layup at the 15:48 mark. Ferris kept on rolling to take a 21-6 lead with 12 minutes left. Tech pulled within ten as freshman Dawson Bilski netted a jump shot to make it 21-13.
A free throw by the Bulldogs forced Tech to take a timeout as Ferris led 29-18 with five and a half minutes remaining. Sophomore Ryan Shuller made a layup for the Huskies to make it a four-point game 31-27 Ferris. The Bulldogs scored four more points to end the half up 36-27.
Ferris started out the second half strong as they started on a 14-2 run to make it 50-29. Tech didn't score their second basket until the 15:05 mark when junior Kyle Monroe scored a layup making it 50-31. The Bulldogs took a 20-point lead after two made free throws to make it 57-37. Freshman Isaac Appleby made the final play of the game a layup with ten seconds left as the Bulldogs won 85-66.
Tech was led in points by two freshman Bilski with 11 and Trent Bell with ten. Junior Bryan Heath, sophomore Tommy Lucca, and senior A.J. Grazulis followed with eight each, Monroe finished with seven. Shuller had six on the night, Appleby finished with four, and seniors Tanner Uren and K.C. Borseth each had two. Tech had 35 rebounds led by Bell and Grazulis each with five. Appleby had the sole block for Tech on the night.
On Saturday, Jan. 13, neither team was able to find the basket much to start the game as the score was 7-5 LSSU with just under 17 minutes left. Both teams went on a drought again as neither team scored until Lake State put in a basket with 13 and a half minutes remaining.
Both teams traded point for point until around the six-and-a-half-minute mark when the Lakers tied up the game at 23 and went on an eight-point run to take the 31-23 lead over the Huskies. The Lakers didn't slow down as they went into halftime up 39-27.
The Lakers momentum trickled into the second half as they scored the first five points of the second half to take a 44-27 lead. Lake State took a 20-point advantage on a jumper to lead 51-31 with 15 minutes to go.
Tech was able to pull within 11 as Monroe nailed a free throw with just under six minutes left to play. A three-pointer by Lucca and a free throw by Monroe brought the Huskies to within nine, 75-66. That's as close as they would get as the Lakers answered back anything the Huskies threw at them the rest of the game to go on to win 84-73.
"One of the positives from today's game is that we battled back and kept fighting," Tech Head Coach Kevin Luke said. "I also thought we were a little more fluid on offense today and our game plan on defense was good as well. We still have some work to do from a mental standpoint and executing our systems well which we were able to do at times today. This is a good team and we'll keep working to get things fixed. If we play like we are capable of we have the ability to compete with any team in the GLIAC."
Monroe led the charge for the Huskies in points with 20, followed by Heath with 12, Grazulis and Lucca each pitched in ten, Bilski looked good again as he finished with nine, and Appleby and Bell each finished with six. Tech had 23 rebounds on the night as Bilski, Heath, Lucca, and Monroe each finished with four apiece.
The Huskies will travel back downstate this week as they travel to Detroit, Michigan to face the Wayne State Warriors (8-6, 6-3 GLIAC) at 7:30 p.m. Thursday. Then venture over to Grand Rapids, Michigan for a showdown with GLIAC newcomers the Davenport Panthers (9-8, 3-6 GLIAC) at 3 p.m. Saturday. The Warriors are coming off of a split this past weekend defeating the Saginaw Valley Cardinals, but falling to the Northwood Timberwolves. The Panthers are looking to avenge being swept by both the T-wolves and Cardinals.