Overtime win against Duluth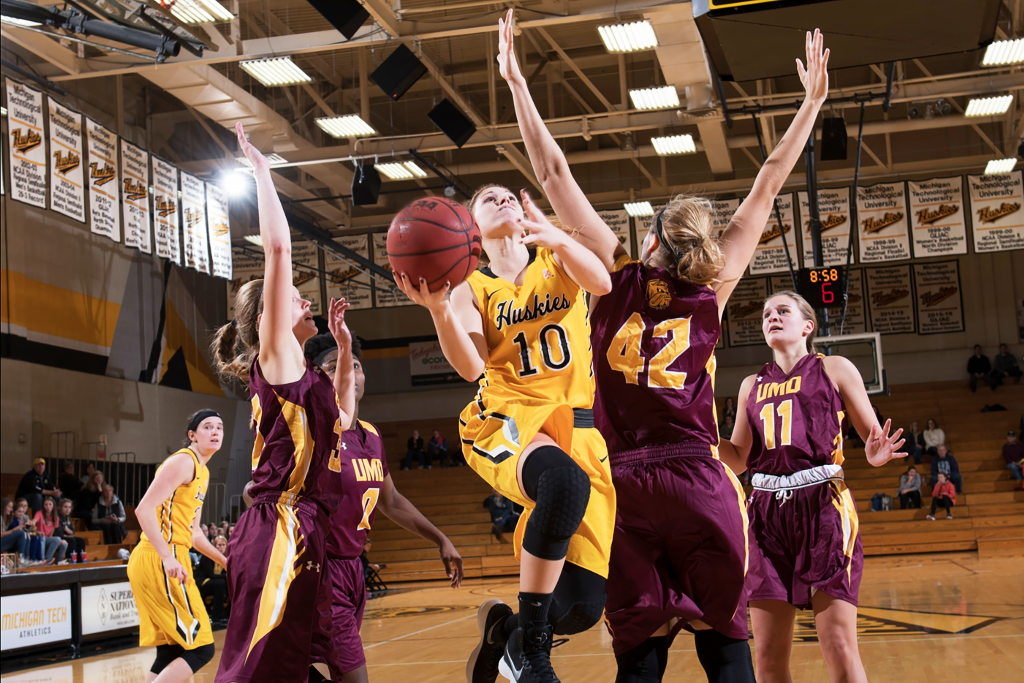 The Michigan Tech women's basketball team won 79-70 in overtime against University of Minnesota Duluth in a non-conference match played at home on Monday. The Huskies led by as many as 14 points, but a late charge by the Bulldogs sent the game into the overtime where the Huskies outscored UMD 18-9 to earn the win.
"We were a little up and down throughout the game and maybe a little tired," head coach Kim Cameron said. "There are so many good things that are happening, but there are some things that we still need to work on. They made a pretty big run at us to start the second half and our offense was a little up and down. We battled through it though and came back from a four-point deficit late in the fourth quarter to force overtime."
Michigan Tech took off to an 8-2 lead thanks to the efforts of senior Hannah Stoll who shot a jumper, layup, free throw and triple. Tech maintained their lead with scoring including a jumper by Brenna Heise, ending the first quarter up 22-14.
The second period saw more scoring, including a seven-point run by Huskies Baillie McGirk and Kelli Guy to bring the score to 39-25, the largest lead of the night.
The Bulldogs trimmed that lead down to 44-40 on a nine-point run by the Bulldogs in the third quarter, to which the Huskies responded with a seven-point run of their own.
In the fourth quarter the Bulldogs finally took the lead from the Huskies, going up 58-54 on a layup by Katie Stark with less than four minutes left in the game.
Husky senior Lindsay Winter scored on a layup and two free throws from senior Heise tied the game at 58-58. Guy then put the Huskies in front again 61-58 when she scored a three-pointer, but a conventional three-point play from Bulldog Sammy Kozlowski deadlocked the game at 61-61 to force overtime.
Michigan Tech set the tone at the beginning of overtime with a 7-1 run and didn't relinquish the lead from that moment forward. Heise got the first basket to break the tie and an old-fashioned three-point play from Winter made it a 68-62 score. The Bulldogs got back to within four points three times, but that's as close as they would get.
"We came out strong in overtime which we need to do on our home floor and it was hard, but I'm really proud of our players for gutting it out," said Cameron. "It may not have been our best game, but we did a lot of good things throughout the night that if we continue to improve on we'll be alright."
Stoll scored a career-high 18 points, shooting 7 of 14. She also hauled down seven rebounds and had a big steal in the second half. Guy and Winter followed with 17 points each while Winter notched her second double-double of the season with 11 rebounds. She also dished out a team-best five assists. Heise rounded out the double-digit scorers with a season-high 14 points, six rebounds and three steals.