WMTU to host Greta Van Fleet listening party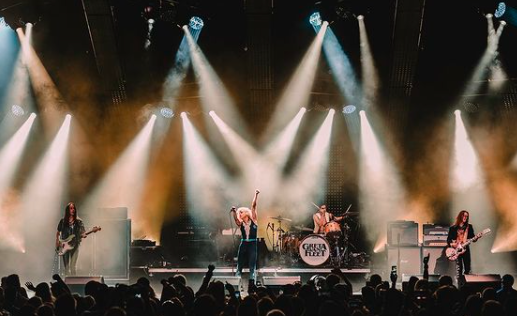 This Friday, the Michigan-based rock band Greta Van Fleet is releasing their second studio album "The Battle at Garden's Gate." To coincide with the new album's release, Michigan Tech's student-run radio station WMTU is hosting a virtual listening party on the album's launch day, April 16, from 6 p.m. to 8 p.m.
Greta Van Fleet was founded in 2012 by the Kiszka brothers: Josh (vocals), Jake (guitar), and Sam (bass). Danny Wagner joined them as their drummer soon after the band formed. The group would remain tied to local gigs until 2017, when they signed to Lava Records and released their debut EP (Extended Play) Black Smoke Rising. From there, the band has released numerous EPs, and their first full album Anthem of the Peaceful Army was released in October 2018. 
Since Black Smoke Rising, the group has received critical praise and positive feedback from fans. Their music style is hard rock, with hints of blues, jazz, and folk sprinkled in. The best way I can personally describe Josh Kiszka's vocals is astronomical: this guy truly knows how to project and sustain notes while soaring with his band. The guitars (lead and bass) mesh well and layer over one another with their gritty tones. Songs like "Highway Tune" show off their playing abilities, like when the rest of the band drops off after the chorus, and Jake Kiszka carries the riff to the chorus. It's satisfying to listen to and hear the band jump right back in without pause, like a gymnast twirling through the air and landing perfectly on their feet. 
Of course, Greta Van Fleet has been criticized for sounding pretty close to Led Zeppelin. Both bands have similar instrument tones, rhythms, and even vocals. They're by no means a cover band, as they perform their own original songs. However, there are some common themes the songs share with Led Zeppelin's, such as mysticism, cars, and women. It's certainly eyebrow-raising how Greta Van Fleet sounds so close to the original rock band, but plenty of bands have copied Led Zeppelin in the past, such as Rush. Rush started out with a harder edge to their songs before transforming into a progressive rock band.  Legendary rock bands, like Led Zeppelin, often act as great sources of musical inspiration for other rock artists as they discover their own sound.
Beyond their great music, Greta Van Fleet is especially inspiring, given as it is made up of  young men from a small Michigan town who bonded together over rock. In a time when musicians and other artists are struggling to find a way to make a living, it's especially important that radio stations, like WMTU, give a platform to their work.
Once again, WMTU's listening party for the new Greta Van Fleet album will take place on Friday, April 16 at 6 p.m. You can see more information and access the Zoom link via Involvement Link. The band has both Instagram and Facebook pages for those interested in following them.