Dive into the magical world of Dungeons and Dragons with MUB Board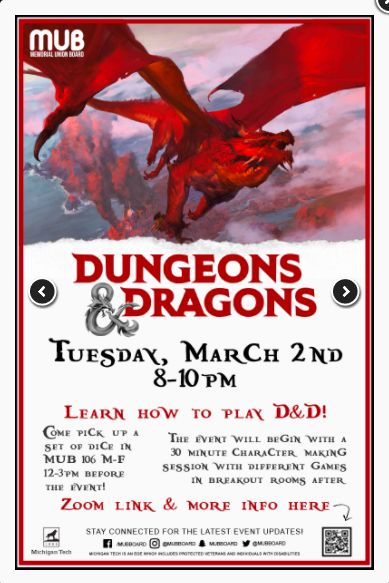 In these times of social distancing and limited gatherings, it can be difficult to find activities to do with others. Fortunately, the Memorial Union Board has an upcoming event on Zoom. On March 2, the Board will be hosting a Dungeons and Dragons Game Night for everyone starting at 8:00 p.m. The first thirty minutes will consist of building characters. Then, there'll be breakout rooms for various sessions with different dungeon masters. 
Dungeons and Dragons is a fantasy, role-playing game that's been around since 1974. It consists of playing as a character through a customized adventure. Players "travel" in a group, with a dungeon master dictating the events based on a pre-written campaign. Based on your 'race,' (elf, ogre, human, mage, etc.) the player's character can vary in Strength, Constitution, Dexterity, Intelligence, Wisdom, and Charisma. These also change based on events, equipment, and armor.
  Here at Michigan Tech, there's a Dungeons and Dragons Club that usually meets to play sessions. Unfortunately, not much has been heard from them (most likely due to COVID-19). Because their page is still up, there's a possibility the group will re-emerge once restrictions relax. For those interested, contact information with the group's advisor is linked on the group page. 
For quick resources, D&D Beyond provides an excellent basic player guide for those starting out or needing a refresher. Races, classes, player mechanics, weaponry, etc. are all covered for the base game. It's also an app for iPhone and Android devices, as well as a separate app: D&D Beyond Player Tools. The app is extremely useful for storing character sheets, rolling dice, and changing stats for events. All of these resources allow anyone to pick up and learn the game quickly. Of course, expansions for more complex scenarios are available for additional fees.
Those who are interested in playing small sessions can easily find stores in Houghton/Hancock that can cater to one's Dungeons and Dragons needs. Sportscard Connection and Black Ice Comics sell dice and miniatures in Houghton, and K.C. Bonker's in Hancock offers a good selection of dice, sheets, and miniatures. For the Michigan Tech event, dice sets are currently handed out on a first-come, first-serve in the Memorial Union Building, room 106. The dice will only be offered this week Monday through Friday, from 12:00 p.m. to 3:00 p.m. These are good quality dice, durable for many play sessions.
As one who's experienced the magic of Dungeons and Dragons, I'm excited the university offers events like this for those without close friends to play with. Information on the event can be found across campus on posters and on MUB Board's Facebook page.