Meet the dogs of MTU
You've seen them on campus — from little Rory greeting you with a friendly lick to Jack jumping around in the snow by McNair, the dogs of Michigan Tech's Residence Education Coordinators (RECs) are practically famous among the student body. Pets, especially dogs, are an important part of Michigan Tech culture. I mean, our mascot is even a dog: Blizzard T. Husky! While many of us may be somewhat familiar with these tenacious pooches, there is still more to learn. Since we can't get up and close with the pups due to COVID-19, the Lode has decided to take some time to interview the dogs (and their REC parents) to get to know them a little better.
Jack, East McNair Hall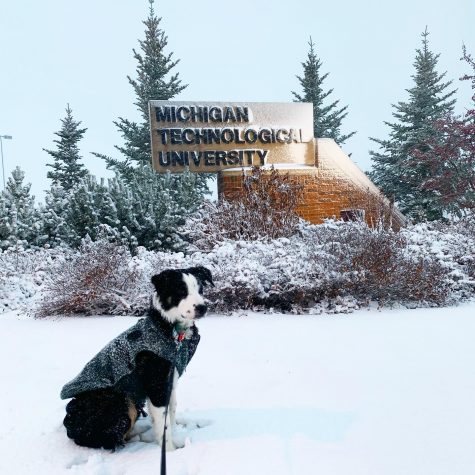 Jack is an energetic Australian Shepherd of a year and a half in age, and he loves his time living on-campus. According to Danielle Meirow, Jack's human companion and a Residence Education Coordinator in East McNair, Jack has made many friends in his time on-campus. These include students in the residence halls (aka built-in dog walkers) and the other canines on campus, mainly Rory and Yuppsie, who you can read about later in this article. A common destination amongst pooches and MTU students alike, Prince's Point is one of Jack's favorite places to take a walk. Jack is beloved by many students on campus, but none more than those in Meirow's halls in McNair. Jack even had his own snow sculpture during Winter Carnival last year — "Sabertooth Jack!" If you keep your eye out, Meirow says you may see Jack sporting his new purple booties, a perfect accessory for Houghton's snowy winters! See more of Jack's adventures on his Instagram: @misuperiorjack. 
Fun Fact: Jack's favorite snacks include popcorn and peanut butter! 
Porter, Wadsworth Hall
Porter is a year and a half year old miniature labradoodle (labrador and poodle mix) who lives on-campus with his human parent Stephen Krygier, a Residence Education Coordinator in Wadsworth Hall. Porter loves his time on-campus, and he especially enjoys his time in the snowy outdoors during winter. Beyond playing in the snow, it's also one of his favorite snacks. According to Krygier, Porter has endless amounts of unconditional love, which he loves to share with everyone he meets. Due to the COVID-19 pandemic, Porter hasn't been able to get up close with the friends he sees every day on campus, so he has to give his love from afar. He enjoys being Krygier's running companion, and whenever he sees his favorite people, according to Porter himself (with a little help from Krygier) he loves to, "Jump! Jump! Jump around!" Porter doesn't have a social media presence, but if you're lucky enough you might be able to catch him in Wadsworth Hall.
Fun Fact: Porter is the half brother of Rory, who you can read more about below! 
Yuppsie, West McNair Hall and Hillside Place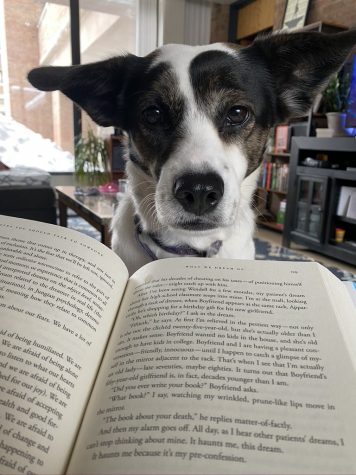 Yuppsie, a mixed-breed bundle of love, has lived on-campus since July of 2019. Holly Lorenz, the Residence Education Coordinator for West McNair Hall and Hillside Place, and her husband Joe rescued Yuppsie from a shelter and have had her since their first day living in the residence halls. Like her other canine counterparts, Yuppsie enjoys her time on-campus. She loves hanging around the McNair courtyard and greeting everyone who passes through. While raising a pet on-campus requires a bit more training than normal, Lorenz says Yuppsie loves students and brings a lot of joy to people who are missing their pets back home. The RAs of West McNair and Hillside even have weekly "appointments" with Yuppsie in the courtyard to destress. Yuppsie has lots of personality, and is " incredibly sassy," according to Lorenz. Her favorite human snacks include soft-serve ice cream and French fries, and in the winter season she especially loves chasing snowballs. Catch more of Yuppsie on Instagram @yuppsiepup. 
Fun Fact: Yuppsie loves to burrow under blankets, and will steal your spot on the couch if you let her! 
Lt. Rory, Wadsworth Hall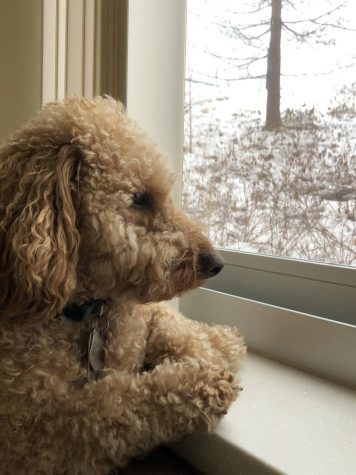 Rory, a two-year-old miniature goldendoodle (not to be confused with an actual teddy bear) who calls Wadsworth Hall home, where he lives with his human companion Abby Moss, a residence education coordinator. According to Moss, Rory thinks everyone is his best friend and loves to say hello to all of the humans (and other dogs) that he sees daily on campus. He enjoys acting as a stress reliever to the many students on campus, and especially enjoys the pets they give him. He doesn't really understand the odd hours Moss has to work, or why there are sometimes loud noises coming from the hallway, but beyond that he enjoys his time on campus. He loves snow, walks, especially hallway zoomies, and sniffing around, as well as playing with plastic soda bottle caps. Moss adds, "Rory also loves you, and believes in you." You can see more of this "furry chicken tender" (as Moss puts it) on his Instagram: @ltroryslog or on his joint TikTok account with Moss: @rorypupandabbyfren. 
Fun Fact: Recently, Rory's new favorite activity has been stealing gloves and tossing them around!
While this is just a fun article dedicated to introducing the dogs of Michigan Tech's RECs, it's important to highlight the significance pets have in our lives. Especially during a time when so many people are isolated from others, dogs (and other pets) are providing a much-needed social stimulus and metaphorical breath of fresh air. According to many studies, pets can boost moods and people with pets are less likely to suffer from depression. Playing with a pet is even said to increase levels of serotonin (a mood-boosting neurotransmitter) and decrease levels of cortisol (a stress-related hormone) in the body. Beyond the mental benefits, there's also signs that having a pet can benefit us physically, too. According to the CDC, some health benefits of having a pet include decreased blood pressure and decreased triglyceride and cholesterol levels. 
While not everyone can physically have pets, or may not want them, they provide an important service to Michigan Tech students and pet owners alike. If you see Jack, Porter, Yuppsie or Rory on-campus, feel free to say hi, but make sure you ask to pet or play with them. After all, we are in a pandemic, and it's important to respect the boundaries of both the dogs and their humans. 
Photos provided by each dog's respective owner.