Michigan Tech presents: 19th Annual Drag Show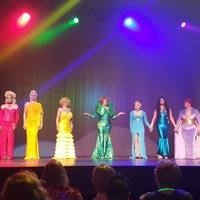 September 21, 2018
Filed under Pulse
Hang on for a minute...we're trying to find some more stories you might like.
With the start of the new semester, Michigan Tech welcomes it students, new and old, with some exciting events to look forward to. One such event which everyone in the Keweenaw is waiting for is the Annual Drag show!
A drag show is basically a performance led by entertainers who are known as drag artists. The show features a medley of acts for the audience such as various songs performed either by singing or lip-syncing coupled with choreography and talk. The performers often choose to wear colorful outfits and make-up and try to mimic the mannerisms of the artists who had originally recorded the songs. Oftentimes, the Queens will decide songs that are central to their philosophy, the message they wish to send into the world, or their personality as a Queen. They will sometimes introduce their performance with information about themselves or will hype the crowd with questions or a little speech about acceptance.
Drag is a divergent art form typically found in Vegas involving dressing up and imitating various famous opposite sex singers and/or personalities. It centers on positive entertainment and caters to the interests of the LGBTQ+ community while also providing a welcoming and fun atmosphere for people of all backgrounds and ages.
This year, the 19th Annual Drag Show, put on by the student organization Keweenaw Pride, is being hosted in the Rozsa Centre of Performing Arts at Michigan Tech.
Entertainers from all over the country will arrive here, right at home, to perform their classic Vegas style of mimicry and impersonation for Tech. It is absolutely encouraged to take pictures of and with the Drag Queens, so don't forget your cameras at home! Also, many audience members like to bring money up to the stage and the Queens will approach the fans during their performance for one-on-one interactions. It's fun to watch and participate as the Queens truly act and feel like idols.
This is definitely one of the largest events of the year and audiences of all age groups are invited to come and enjoy all the performances and be a part of the lively humor, amusement, acceptance and cheer.
The event will be held on Sept. 22 at the Rozsa Centre and will begin at 8 p.m. For tickets and more information visit http://www.mtu.edu/rozsa or give a call to (906) 487-2073. Don't miss out on such a great event; hurry up and grab your tickets now!