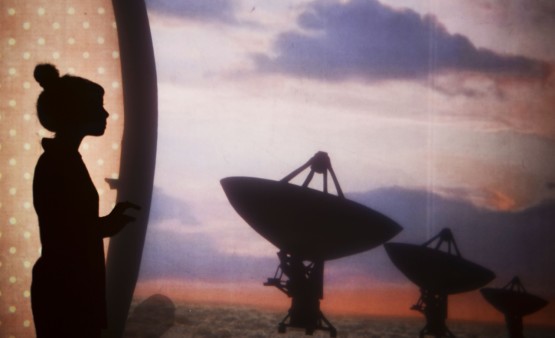 Manual Cinema
The Rozsa Center hosted its first event of the semester this past Friday, Sep. 4 with a virtual showing of Manual Cinema's Lula Del Ray. Manual Cinema, an Emmy-award winning group was set to bring the show to campus back in spring, but the showing was postponed due to COVID-19. It was replaced this semester with a virtual showing, which will be the case for much of the Rozsa shows to follow. 
In preparation for the Lula Del Ray showing, my housemates and I, dressed in our best attire (ie: comfy pajamas) settled in with blankets, our cat, Casper, and buckets of popcorn as we prepared to watch the Rozsa Center's first big event of the season. Though watching from home was surely less exciting than the excitement of gathering for a live performance in the theatre, Manual Cinema managed to capture our attention as we watched Lula Del Ray progress. We were glad to see it live up to our expectations of the Rozsa's quality programming, though instead of facing a stage in a theatre, we were on our couch in front of the flat screen. 
Manual Cinema uses a creative combination of innovative shadow puppets and other ingeniously designed elements to make each piece of their show a seamless masterpiece. The puppets, carefully crafted out of layers of paper, are set on an overhead projector (just like the one your teacher used in elementary school) and moved along the screen to mimic motion. Beyond the projected pieces, they also use real props and human actors to further tell their story. Rich storytelling elements and music add the finishing touches of their performance. The final result is something entirely unique and otherworldly. Is it a live-action film? Stop motion? Animation? Perhaps it's something comparable to each.
Lula Del Ray tells the tale of a young girl, Lula, and her mother, a scientist stationed at a telescope. They live in a small camper together, often getting on each other's nerves as Lula's carefree spirit overlaps with her mother's career-driven focus. As her mother's attention remains heavily on her work, Lula finds herself captivated by the Baden Brothers band. As she becomes more and more engrossed in the Baden Brothers and their music, her relationship with her mother slowly worsens. The final straw breaks when an argument between the two breaks Lula's Baden Brothers record, and she runs away to find the brothers in a nearby city, and the telltale characteristics of a coming-of-age journey ensue. 
Though the film has no dialogue, Manual Cinema's strategic use of music, artistry and performance within the piece craft a unique storytelling experience that captivates the audience's attention for the entire runtime. While this would have surely been a fantastic show to see live, Lula Del Ray was a great example of the virtual programming we will continue to see. 
Lula Del Ray isn't the group's only show, either! Game of Thrones fans will recognize the name of their The Rains of Castamere piece, while Hansel und Gretel and Frankenstein pose memories of the respective classics. To learn more about Manual Cinema and how they create their masterpieces, check out their website at http://manualcinema.com/.