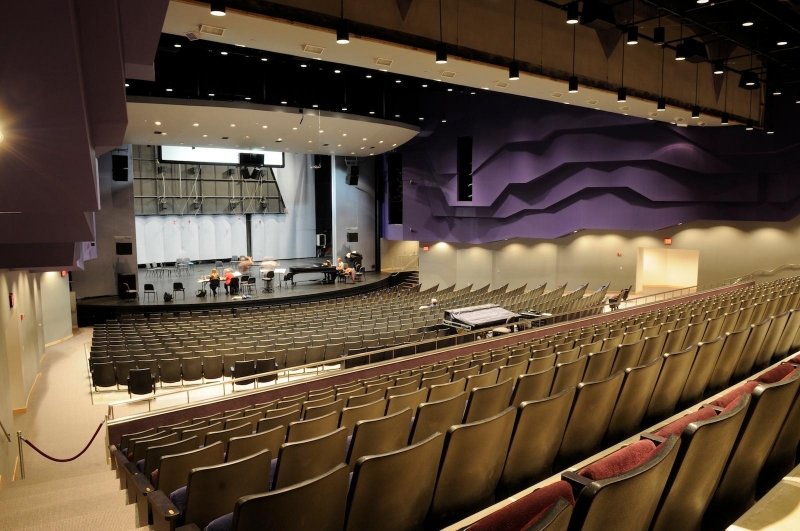 Michigan Technological University
As the Michigan Tech community steps into the unknown territory of safely maintaining campus life during a worldwide pandemic, many students, staff, faculty and other community members are left wondering what will happen with the Rozsa Center. Typically the center of art, music and cultural events at Michigan Tech and within the Copper Country, social distancing regulations and safety guidelines have made it impossible for events to function as they usually do in the Rozsa.
"The Rozsa Center remains committed to providing arts and culture events for students and for the community, even in the midst of the COVID-19 pandemic," says Mary Jennings, Programming Director of the Rozsa Center. Will things be different this year? Absolutely. Gone are the large gatherings within the theatre that we are used to (at least for a little while), but the quality entertainment is here to stay.
The Rozsa Center staff typically plan their events at least a year in advance, but the pandemic has caused them to put their thinking caps on as they innovate new ways to showcase musicians and artists on campus. Michigan Tech has never been afraid of the unknown — just as our engineers and scientists push the boundaries of innovation, so do our artists. "We are experimenting. All of this is best-laid plans, but it's also on-the-fly experimentation. It's research and development, just like on the STEM side, but with arts and with events," Jennings explains. 
The Rozsa's first virtual event, rescheduled from last spring, was held this past Friday, Sep. 4. The showing of Manual Cinema's Lula Del Ray is an example of what is to come, according to Jennings. Instead of watching the performance on the Rozsa Stage, event-goers were able to watch it in the comfort and safety of their own homes via a link to a filmed version of the event. Though a virtual performance took away the live dynamic between artist and audience, the unusual situation boasts some additional unique experiences that wouldn't have happened otherwise. 
"Because of the uniqueness of this year, we were just working directly with the artist to come up with the best plan that allows everybody to still stay safe, that allows us to continue to work with these amazing artists that really need a ton of support right now in our industry, and also still provide meaningful and interesting and entertaining content for our campus community," Jennings says. What does this mean for the community? First, last Friday's virtual performance. Then, a live Q&A webinar next Tuesday, time for student composers to work with a professional music composer, and a unique opportunity for Houghton Middle School students to work with the Manual Cinema team on storytelling.
Lula Del Ray's virtual performance is just one example of what is to come this year. All of the Rozsa Center's Presenting Series events will be digital this semester, available for free to anyone with a link to the event, which can be found on the Rozsa's website. Other events, such as a Rocky Horror Picture Show drive-in around Halloween, a Tech Trails concert in the spring and rumors of a roaming concert (via an outfitted truck) are just some of the many ideas bouncing around the Rozsa Center as they prepare for another year of excellent programming. 
Some people might question why it's important to maintain events like these in the midst of a pandemic. For Jennings, that's a multi-faceted answer. "I think the arts have a unique ability to connect us, even when we are virtually apart, socially distanced," she says. "To have a shared experience that you know other people are participating, and watching alongside of you, maybe you're watching with friends virtually, and you're connecting with the artists and the stories that they're telling, whether it's through music or a play or through dance, I think these important experiences remain very critical to our mental health right now, and I think our connectedness within our society." 
Though Michigan Tech often focuses on the left-brained, STEM side of life, Jennings believes it's important to maintain that balance. This is especially important as many artists struggle to find work as the world debates what constitutes an "essential" service during a pandemic. "For a singer to still have a reason to practice singing and all of the personal benefits you get from participating, it's so important to try and persevere and figure out how to continue to gather these groups," Jennings says as an example. 
For both the artists and the audience, the arts act as a sense of mental clarity from the chaos that is everyday life. "Maybe a bit of it is an escape, too, with all the heaviness of so many things that are going on in our country right now," Jennings says of the importance. "If the arts can be an avenue to find some joy – how important is that right now, too?"
As the Upper Peninsula's largest performing arts center, Jennings and the rest of the Rozsa staff feel a sense of responsibility to maintain art and culture events, even in the unknowns of the coming semester. As theatres across the country struggle, the Rozsa Center aims to use the support of the local community and the university to act as an inspiration for others, in innovating new ways to safely continue supporting the arts.
For more information on the Rozsa Center, or to see upcoming events, check out their website at https://www.mtu.edu/rozsa/, call them at (906) 487-2073 or email them at [email protected].