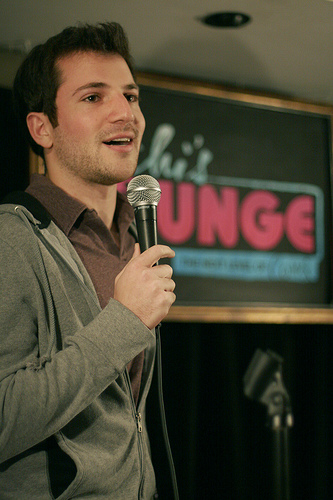 Image courtesy of Aaron Kominos-Smith's Website
Beyond the winter sporting activities and snow sculptures, the Friday night comedian show is one of the favorite traditions amongst Michigan Tech students. This year's headliner is Aaron Kominos-Smith, a stand up comedian from Brooklyn, NY.
Kominos-Smith has a lot to live up to before he takes the Rozsa stage Friday night, as past Winter Carnival comedians include Jaboukie Young-White (2019), Bo Burnham (2012) and John Oliver (2010). With performances on Comedy Central and MTV under his belt, Kominos-Smith will no doubt bring energy and laughter to his comedy show at the Rozsa.
While studying architecture at Cornell, Kominos-Smith balanced his studies with his love of comedy by performing in shows when he had the chance. After graduation and a brief stint as a professional architect, he decided that building design wasn't for him and transitioned to being a full time comedian. He's made a career out of making people laugh ever since!
Self-described on his website as "the College Comic," Kominos-Smith's vibrant energy and quick wit will definitely resonate with his audience of college students here at Michigan Tech. He's performed at such universities like Harvard, Princeton and UCLA, so he will no doubt make Tech students and Winter Carnival visitors alike laugh their socks off Friday night!
Beyond his touring shows, Kominos-Smith can be found as host of the podcast "But I Also" and at "The Living Room," a free comedy show produced by Kominos-Smith at the Postmark Cafe in NYC.
Kominos-Smith's style of comedy is mostly clean, with more than a few self-deprecating short jokes here and there. At only 5'2", he boasts the slogan "Big Laughs, Little Guy" on his website.
Rather than relying on ill-mannered jokes that make fun of other people, Kominos-Smith finds the humor in himself, such as his short stature, and in everyday life situations that are relatable to many.
Some of his favorite jokes seem to revolve around his life in the Big Apple, and the many peculiar things and general shenanigans that go on in New York City.
While those big city jokes may not translate so well to small-town Houghton, he's no doubt going to prepare a set that is worthy of a Winter Carnival Comedian.  Audrey Shelton, the University of iowa, Campus Activities Board Comedy Director says, "Aaron was entertaining and appropriate, whcih can be hard to find in a college-humor comic. CAB was proud to be associated with a comic of such morals and would suggest Aaron to other universities."
Catch a glimpse of Aaron Kominos-Smith and his quick-witted comedy before the show by visiting his website at www.funnyaaron.com or checking out his past shows on YouTube.
Once again, the comedy show will be Friday, Feb. 7 at 9 p.m. in the Rozsa Center. Tickets can be purchased in advance for $10 or at the door for $15. Michigan Tech students can get in free with their student ID through the Experience Tech Fee. For more information, visit Blue Key's Winter Carnival website at https://www.mtu.edu/carnival/2020/, check out the MTU Events Calendar or contact the Rozsa Center Box Office.