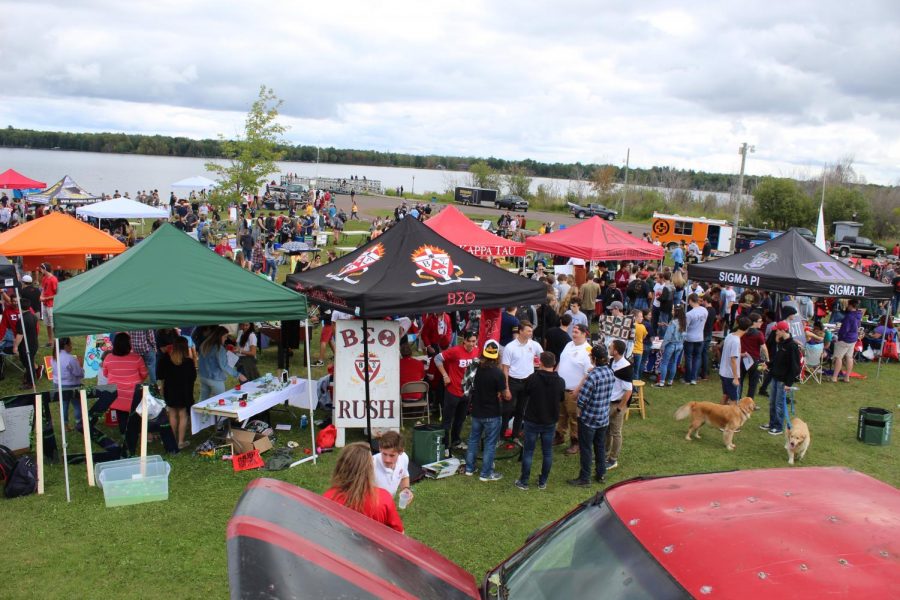 The first week of the fall semester has come and gone, and with it, another successful Keweenaw Day. K-Day, as it's known by many, is the annual activities fair hosted by Michigan Tech and its many student organizations and clubs. This year, K-Day just so happened to fall on the date of another favorite MTU holiday, 906 Day, as it was held this past Friday, Sept. 6.
However, K-Day is more than just a big recruitment fair for student organizations. It was given the name "Keweenaw Day" for a reason: in celebration of the wonderful landscape we live in in the amazing Keweenaw Peninsula. Held this year right on Lake Superior at Centennial Park in Chassell, K-Day gave students a chance to not only mingle with students of all interests and backgrounds, but also the opportunity to see first-hand just how truly beautiful of an environment in which we live.
Keweenaw Day was originally started in 1951 when Dr. Charles SanClemente voiced concerns about the growing gap between students and faculty as enrollment numbers steadily increased. Dr. SanClemente thought that an outdoor picnic at Fort Wilkins State Park would be a great way for students and staff to bond while enjoying the beautiful wilderness of the surrounding Keweenaw. Given that MTU is located in such a spectacular environment, Dr. SanClemente found it imperative that students take the time to enjoy it. Thus, KDay was born.
The event had since been moved to McLain State Park, and due to flood damage, it was held last year in its current Chassell location. MUB Board took over the planning of K-Day in 1967, and they have continued to make the day a Huskyfavorite event since. The celebration hasn't been without obstacles over the years, however, as it was almost cancelled completely several times.
Concerns grew in the 1970s and 80s that the event was becoming too hazardous. KDay became associated more with drinking and alcohol than shared camaraderie between students and faculty. The campus safety board voted to end K-Day celebrations in 1979, but former MTU President Ray Smith kept the event in session. Keweenaw Day became a completely dry event in 1990, ending all alcohol consumption there. Lack of participation threatened to end K-Day in the early 2000s, but some changes were made, and Keweenaw Day was once again the successful celebration we know it as today.
This year, the Michigan Tech students and faculty saw a K-Day as grand as any other year. Falling on the same date as the Upper Peninsula's beloved 906 Day, the event celebrated all things U.P. While rain threatened to spill throughout almost the entire day, it held off until KDay was over, making for another great back-to-school celebration.
As is reflective of MTU's diverse student body, K-Day showed off an impressive array of groups and clubs of every interest. Whether Huskies are interested in specific things like solving Rubik's Cubes (Cubing Club), working for Disney in their future (the Theme Park Engineering Group at MTU), or maybe they love to read (Book Club) and write (like us writers at the Lode), Michigan Tech truly has it all.