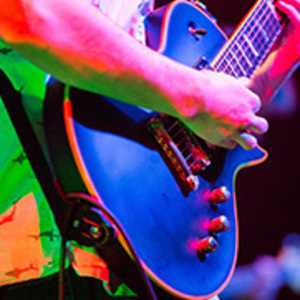 Spring is slowly but surely arriving in the Copper Country, and what better way to celebrate than with a music festival! Keweenawesomefest, presented annually by Michigan Tech's very own radio station, WMTU 91.9FM, will be held this Friday and Saturday, April 5 and 6 in the McArdle Theatre.
The festival is the perfect opportunity to listen to some great music and find your new favorite band within some amazing artists! Many of the artists are local to the Houghton area, with the rest based mainly out of the state of Michigan and other Midwestern states.
WMTU might be hosting the event, but they haven't done all the work on their own! Blue Key, the Rozsa Center and MUB Board have all worked together to make the tickets for this year's Kfest absolutely free. Around 400 people typically attend the event in total (across both Friday and Saturday), so if you haven't received your tickets ahead of time, make sure you give yourself enough time to get good seats for the shows.
Doors open at 6 p.m. on Friday and 5 p.m. on Saturday, and it is recommended to get to the McArdle by then to have time to relax inside the theatre before the shows begin.
The WMTU crew, along with the other student groups, have put a lot of time and planning into making sure each Kfest is spectacular.
Henry Sendeck, WMTU's event organizer, says, "Planning for the next year's event takes place almost immediately after the current year's event finishes. We start looking at the schedule of events the Rozsa is putting on (as well as other places around campus) and start looking into what kind of budget we're going to need. Typically, we begin contacting bands in October (about five to six months out), organize a crew in November, finalize contracts in December, rent equipment in January, organize food, transportation, media and advertising in February, and then the event will take place at the end of March or the beginning of April."
Sendeck describes Kfest as just like any other professional music festival. "It's the ultimate combination of the hottest local acts and some rising artists from around the midwest. We've had rappers, electronic duos, rock bands, heavy metal bands, jam bands, folk artists, DJs (and just about any other musical act you can imagine) perform at KFest in the past. This year we have some great rock bands performing – both local and non-local."
Perhaps one of the greatest things about having the festival at a place like Michigan Tech is that it gives many local bands the opportunity to reveal their music to a large group of people.
When asked how they select each year's performers, Sendeck commented, "We base a lot of our search for talent off of who's playing a lot of local gigs, who's been having a good year, what people are listening to, what kind of requests our DJs get on air, and who reaches out to us."
Many Houghton area bands, along with other Midwestern groups, aim to provide festival goers with some great jams and the opportunity to discover new music they might not have listened to otherwise. Sendeck added, "9.9 times out of 10 I would rather have a small local band, that is begging me to play KFest, play instead of some big name that didn't know the UP existed until I called their agent."
Friday night will feature four bands, each with a performance time of around an hour.
First up in the McArdle will be a local band called The Graduates who aim to bring new music to the Copper Country. Catch them as they start off Kfest at 6:30 p.m.
Following them with a showtime of 7:30 p.m. will be another Houghton-area group: Fault Choir, a four-piece post-rock band with some rhythmic instrumental and vocal arrangements.
Next up will be Ozone Baby, who claim they will be "Your new fave band!" with their fun and funky tunes. Don't miss them on the stage at 8:30 p.m.
Finishing off Friday night with a showtime of 9:30 p.m. will be performer Djiaant who aims to impress with his carefully-crafted style and lots and lots of bass.
Saturday night's events will start at 5:30 p.m., with the band Earl Grey kicking off the lineup. Inspired by bands like The 1975, this local pop band vows to take listeners on a journey with their steady beat and chill vocals.
At 6:30 p.m. Minnesotan rock band Double Grave will take the stage, along with their loud but not too heavy sound.
Young Pioneer, a pop band from the Lower Peninsula, will be up at 9 p.m. with some classy ballads and upbeat pop-rock jams.
Also being featured Saturday night is the band The Go Rounds. With flashes of Psychedelic Americana Pop and groovy vocals, the band aims to take you for an exhilarating yet relaxing ride through their one-of-a-kind sound. Don't miss them at 10 p.m. on Saturday night as they round out Keweenawesomefest in the McArdle.
Besides the awesome musical acts, Kfest will also feature comedian Jaboukie Young-White, who was supposed to be this year's Winter Carnival comedian, but unfortunately had to reschedule his performance here at Tech due to bad weather. Luckily for us, he's coming back for Keweenawesomefest, and you can go see his show in between the music performances at 7:30 p.m. in the McArdle.
He's appeared on many programs, such as The Tonight Show with Jimmy Fallon and The Daily Show with Trevor Noah. He's also gained writing credits for the popular Netflix shows Big Mouth and American Vandal.
All of the Keweenawesomefest events will take place in the McArdle Theatre, which is located on the second floor of the Walker Arts and Humanities Center.
If you can, get there and enjoy the music. In a place like Houghton, it can be hard to get out and see live performers. Kfest is the perfect opportunity to do so while supporting local musicians and having fun!
"Personally, my favorite part is when that first band takes the stage," Sendeck says. "I love the energy that they bring to the stage and the energy that the crowd reciprocates. It's a truly magical moment."
*Note: This article ran April 4