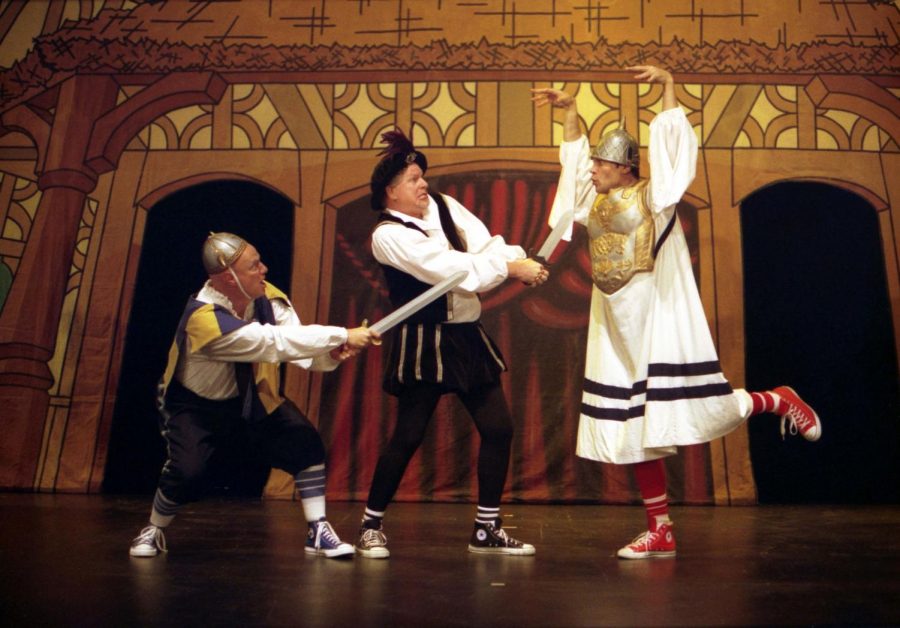 Most students wouldn't choose to spend their Saturday night watching the works of William Shakespeare be brought to life on stage. To many, Shakespeare is boring, hard to understand, and just overall not worth spending time on. Michigan Tech, however, has aimed to put a change to that by hosting the famed acting group the Reduced Shakespeare Company at the Rozsa Center.
The Reduced Shakespeare Company is not your average acting group. This is certainly not your English teacher's William Shakespeare. While incorporating some original dialogue from the Bard's plays into their script, their shows often feature a small number of actors portraying a large number of characters, such as in their abridged version of Romeo and Juliet where two actors play every character of the play.
Famous lines like "Do you bite your thumb at me, sir?" and others make an appearance, while a Montague and a Capulet may even dare to be performed by the same actor. Their actions are goofy and obnoxious, appearing as if they were almost something out of a cartoon. While some parts of their costumes may appear accurate to Shakespeare's time, the actors' use of modern-day high tops also adds a small but hilarious touch.
The acting company is made up of numerous actors who travel the world performing abridged versions of some of Shakespeare's most famous works – with a twist.
Besides being "reduced" and much shorter than the actual versions, the troupe aims to get through "37 plays in 97 minutes" by making people laugh and not take the famous playwright's works too seriously.
The company got its start in 1981 and has been made up of a variety of different actors ever since. They got their start doing a shorter version of Shakespeare's Hamlet at Renaissance Faires in California.
Since the Faires only allowed a stage time of thirty minutes, the actors had to get creative in how they were going to get through Shakespeare's lengthy play. They cut Hamlet into twenty minutes, made the abridged version of the Bard's plays their signature style, and never looked back. They even hold the world record for performing the world's fastest Hamlet.
The Company has also created numerous radio and television specials, along with their many shows on stage. They've performed all over the world, including famous performance centers like the Kennedy Center, Lincoln Center, the White House, London's West End, New York's Off-Broadway, and in many other countries, states, and universities like Michigan Tech.
Though their name may imply that they only perform Shakespeare, the group has an extensive range of shows. Besides The Complete Works of William Shakespeare (abridged) that they will be performing here in Houghton at the Rozsa Center, the group has also featured shows like The Complete History of America (abridged), The Complete World of Sports (abridged), and The Bible: The Complete World of God (abridged).
If you find out after the show on Saturday that you just can't get enough of the Reduced Shakespeare Company, fear not, as they have many different performances of their various popular shows all over the world.
For more information, visit their website at www.reducedshakespeare.com. They also feature a free, 20-minute podcast on their website, Stitcher, and iTunes where you can tune in to hear what life is like for the touring actors, both backstage and on the road.
The Reduced Shakespeare Company will be at the Rozsa Center for the Performing Arts on Saturday, March 30, and the show will start at 7:30 p.m. Tickets will cost $22 for adults and $10 for children while Michigan Tech students can get in free with the Experience Tech Fee.
It is rated PG-13, so it may be best to not bring young children.
If you would like to ensure your tickets for the show ahead of time, you can do so by contacting the ticket office at (906) 487-2073 or by purchasing them online at www.tickets.mtu.edu.