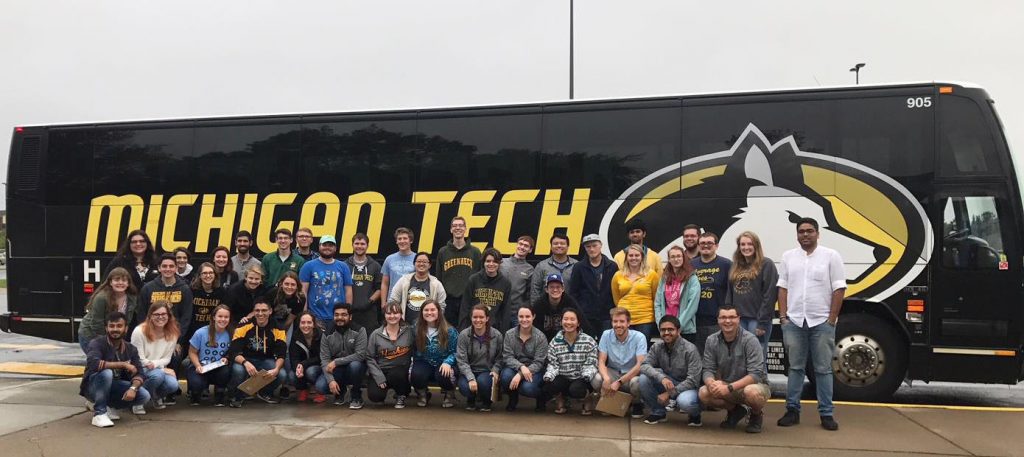 This past weekend, Michigan Tech's Mind Trekkers student organization helped middle school students and families alike Get Their Geek On! The group, which is known around the country for their traveling STEM (Science, Technology, Engineering, and Mathematics) show, traveled to Wausau, WI to attend the Central Wisconsin Science and Engineering Festival at Northcentral Technical College's Wausau campus.
The Trekkers spent two days on NTC's campus, entertaining and educating both young and old. Friday was reserved for local middle school students, whose numbers totaled around 2,000 for each session. The atmosphere was a bit chaotic, but as the Trekkers amazed the students with their awesome science, the chaos was quickly forgotten. Saturday was open to the public, so many of the students brought their parents so they could be entertained by the science too. In total, roughly 6,000 people were exposed to the traveling STEM show, making for one successful weekend for the Mind Trekkers.
Over 40 members of Mind Trekkers attended the festival this weekend, all displaying fun and educational demonstrations for the students. Lots of hard work went into making sure the weekend was a success, and none of it would have been possible without the dedication of the Mind Trekkers and the other volunteers. "I could not have asked for a better first event of the school year, and the volunteers involved are the ones who made it extraordinary," Mind Trekkers president Ben Metzger stated.
Demos ranged from things such as "Musical Fruit" – a piano made by creating a closed electrical circuit with bananas and limes – to "Skewer Through a Balloon" – where students put a skewer through a balloon without it popping. Many kids saw the experiments and immediately thought they were witnessing magic. Upon learning that it was pure science they were observing and that they could do science experiments too, they were filled with joy and awe.
When asked about the experiments she demonstrated this weekend, Mind Trekkers member Sophie Owen replied, "My favorite demonstration was the Vortex Cannon, where you put fog from a fog machine into a cardboard box, and then you hit the side and smoke comes out, and you can see the shape of the vortex you created. All the kids and the adults were so amazed."
Most of the Trekkers will agree that the most memorable moments came from their interactions with the students at the event. Metzger's favorite student interaction occurred in NTC's STEM lab: "The robot in the lab was moving blocks that spelled out ROBOTS and it moved the blocks from a vertical stack to a horizontal line. Once all the blocks were horizontal, the student said, 'Excuse me; do you know what STOBOR means?' I replied and said 'Buddy, I think that the blocks spell ROBOTS, but you are looking at the back side.' His whole face lit up as he got really excited and said 'Wow! That makes soooo much more sense, thanks!'"
It's the lightbulb moments like these that make every little hassle or moment of stress worth it. The Mind Trekkers goal of spreading their love for STEM is an unstoppable force when these dedicated students get together. "It is really cool to see all of the people involved working towards a common goal." Metzger added, "It is clear that everyone is passionate about the work that they are doing."