Winter Carnival history at Michigan Tech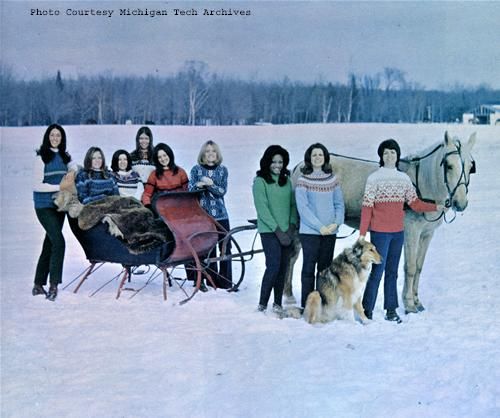 Students and organizations have been bustling about these last few weeks, rushing to put finishing touches on statues and stage performances. Most students have already fallen into the relaxation process by now, taking advantage of the four-day weekend.
Winter Carnival has not always been an elaborate four-day event, though. The first carnival in 1922 was dubbed the "Ice Carnival," a fun one-day, circus-style show put on by students, where the animals were volunteers in animal costumes. It became an annual tradition, even traveling around the Upper Peninsula in 1924 to raise funds and awareness. The traveling circus was not particularly successful as far as money is concerned but did spread the news of the annual, one-day celebration. In 1928, the first Queen Competition took place. This competition was based not only a contestant's beauty but her skating and skiing skills as well. The 1927 carnival even featured a sled ride pulled by an airplane. Due to the Great Depression, the Winter Carnival was not held from 1930 until 1934.
Under the Blue Key National Honor Fraternity, the tradition resumed in full force, and, in 1936, the snow sculptures made their first appearance. The early statues were small and simplistic at first, as local children and student organizations fumbled with the challenge. As time progressed and skills evolved, snow statues grew into the extravagant sights littering the campus we see today. In 1940, festivities were pushed, permanently, all the way back to February due to a lack of snow. Unfortunately, from 1944 to 1945 Winter Carnival was canceled because of a decrease in enrollment rates from World War II.
The year after the end of the war saw the continuation of the carnival, including the addition of skit competitions. The next big Winter Carnival tradition started over a decade later in 1959 with the arrival of two busloads of girls for Michigan Tech's first Sno-Ball.
Slowly Winter Carnival has evolved into the massive, multi-day production with events starting in January and ending in February that we know today.
Additional writing and editing by Aemili Lipzinski